Unisa will host the 2021 Open Distance and e-Learning (ODeL) Virtual Conference from 4 to 6 August 2021, under the theme "Mediating Open, Distance and e-Learning in the Advent of Global Crises". The virtual conference will unite scholars, researchers, practitioners and emergent scholars with the purpose of generating debate on contemporary and new opportunities, challenges and models facing ODeL in a global, digital world.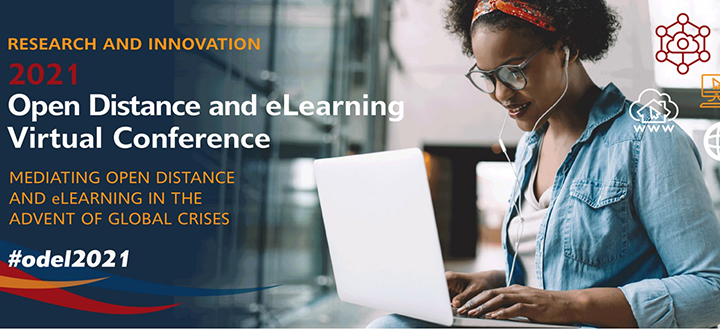 The e-conference comes at a time when the world is facing the immense challenges brought about by the Covid-19 pandemic. Institutions of higher learning have not escaped this global crisis and it is, therefore, important to rethink and re-strategise how these institutions will facilitate teaching and learning through the use of technology. In this regard, several universities look up to Unisa as it aspires to be a leader in the global and African ODeL landscape.
The event endeavours to assemble a rich and balanced team of critical ODeL thinkers and role-players from within the institution, regionally, nationally, continentally and internationally. Regarding technology, topics such as digital literacy and proficiency, technology-supported trends in ODeL, and the place and role of massive open online courses (MOOCs) and open education resources (OERs), e-assessment, and digital literacy and proficiency will be tackled.
The keynote speakers and panellists will include Dr Sanjaya Mishra (Commonwealth of Learning, Canada), Prof Moeketsi Letseka (UNESCO Chair on Open Distance Learning, Unisa), Prof Maha Bali (American University of Cairo) and Dr Karin Wolff (University of Stellenbosch), with Prof Mpine Makoe (Commonwealth of Learning Chair OEP/OER, Unisa) as the facilitator of the ODeL Postgraduate Consortium.
The e-conference will be presented free of charge. However, it is essential to register in order to receive the session links. Click here to register.
* By Nancy Legodi, Acting Journalist, Department of Institutional Advancement