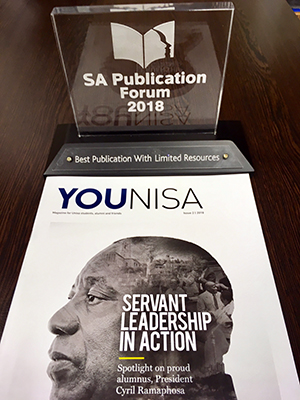 YOUNISA, the magazine for students, alumni and friends of the University of South Africa, took top honours in the category 'Best publication with limited resources' at the 17th annual South African Publication Forum Awards.
The magazine was also a finalist in the categories 'Best external magazine' and 'Best publication cover'. Focus, Unisa's staff newsletter, was a finalist in the category 'Best newsletter'. Both titles were awarded certificates of merit for excellence in writing, communication and design. YOUNISA and FOCUS are published by the Communications Directorate in the Department of Institutional Advancement.
The South African Publication Forum (SAPF) annually receives entries from most of South Africa's big corporates, organisations, universities and government entities. The aim of the competition is to reward excellence in internal and external corporate communication media. Entries are adjudicated in a total of 22 categories by a panel comprising of respected industry professionals in the fields of writing, communication, design and new media.
Says Philip van der Merwe, YOUNISA editor: 'We have been entering our publications for a number of years now, and the feedback received from the adjudication panel serves as invaluable input – regardless of whether an entry wins or not. Said inputs have steered us towards creative ways of engaging with our target audiences – students and alumni – with the most recent issue, celebrating Unisa's 145th year as a beacon of hope, comprising almost entirely of reader contributions. The award therefore also serves as recognition of our readers' level of engagement with their university.'
Nancy-Anne Anderson, managing editor in the directorate, says that she is especially pleased that the award category recognises that not all companies and organisations have access to large budgets and extensive resources. 'This shows that one can go a long way with good content and engaged readers, even without the extensive resources of other entrants such as Anglo American and Mercedes-Benz,' she says.
Concerning YOUNISA, the judges had this to say: 'To effectively communicate with such a vast readership is not an easy task, but YOUNISA (spot-on title, by the way) achieves what it sets out to do, fulfilling the promise made to readers and the objectives of this publication. Students and alumni alike would be proud to be associated with this institution. Unisa's image is positively supported by the friendly feeling one gets when paging through the publication. You can be proud.'