As part of a broader initiative to ensure that women students are safe, Unisa distributed the first of its self-defence kits at the Sunnyside Campus earlier this week.
The initiative will continue at other Unisa regional hubs such as Durban, Cape Town, Polokwane, Rustenburg, East London, Nelspruit and Gauteng. The project is part of the university's multi-pronged response to the scourge of gender-based violence.
We spoke to a number of students about the initiative, to find out if they have been witnesses to or victims of crime; and if there is anything that they think the university could do to further improve the safety of students around the campus: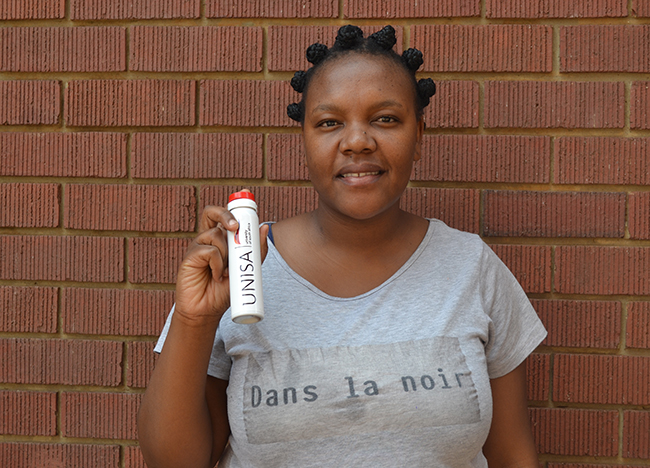 Hlulani Ndlovu
I have never been a victim of nor a witness to crime. However, I have seen that there is easy access into the Sunnyside Campus. It is even easy for non-students and non-staff members to enter into the Campus. I think Unisa needs to intensify its security, then everything else will be okay.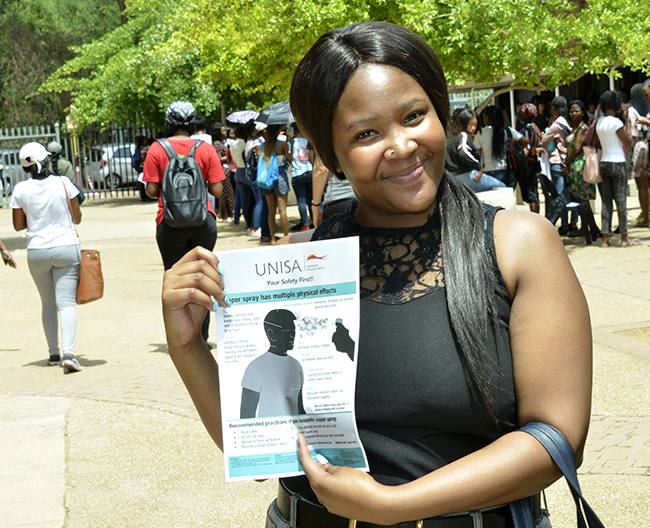 Lebogang Leta
I have never experienced any crime around the campus. I think this is a very good initiative as it raises awareness around gender-based violence and murders. The pepper sprays will help us protect ourselves, plus the university gave us instructions on how to use them which is a good thing. We really appreciate this initiative by the university.
However, I feel that security needs to be tighter to further protect those who use university facilities at night. Security officers need to ensure that students do not swap their student cards and verify students' identities on the cards. They should be alert at all times!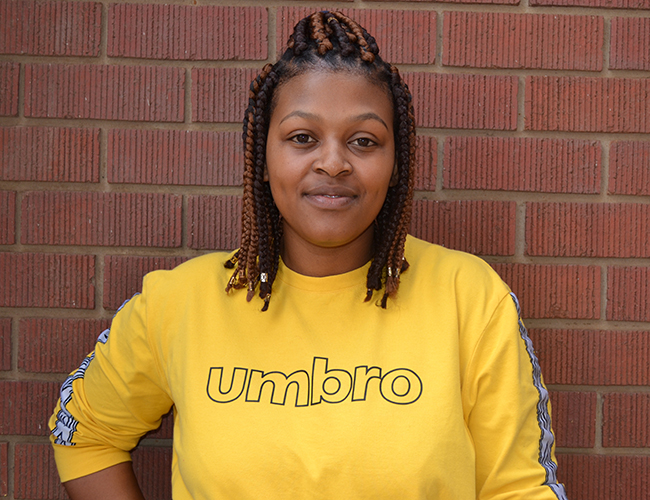 Lebogang Tshehla, Unisa National Sports Committee
The initiative is good as everyone has experienced some form of abuse or crime. I love studying at night and travel along Steve Biko Road, which is not always safe. The pepper spray is a protective mechanism for me against the vultures that try to hurt us.
What the university can do further is to beef up security and consistently check for student cards. Sometimes, security officers show preference and if they know you, they do not ask for your student card.
Recently, a student lost a phone and laptop in one of the study halls. There should be cameras to make it easy to identify the perpetrators of theft.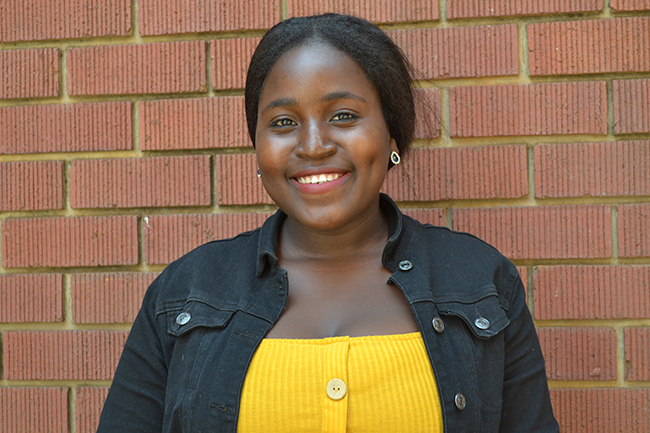 Rolivhuwa Matshavha
I have never been a victim of or witness to crime. I think the pepper spray initiative is good as we will be able to protect ourselves around campus and everywhere we go.
I would like the university to install cameras around the campus to curtail crime.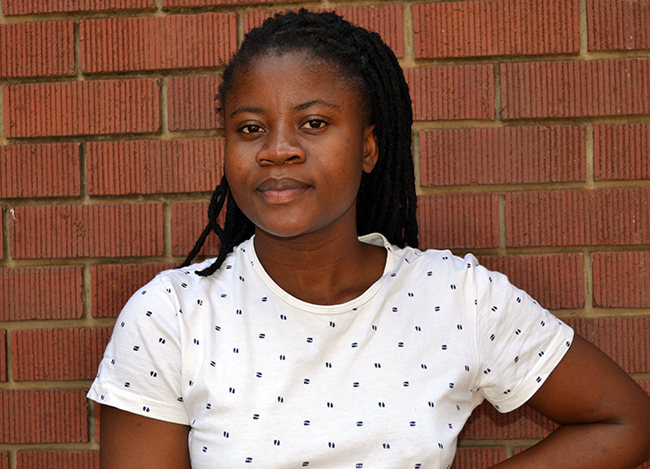 Ronewa Nemabaka
I am a crime survivor. In July/August 2019, as I was walking on Troye Street, a man passed me and dropped his money. Outside was a fake hundred rand note, and inside were papers. As I was busy on my phone, another man came to me and said it was his lucky day as he had picked up the money. He further said that I should just walk with him and pretend to be his girlfriend. As I was focusing on my phone, I was agreeing to everything he was saying without actually paying attention.
He said we would share the money and I should just keep pretending to be his girlfriend so that the other guy would not notice that he took his money. Later on, we went to Jubilee Park in Sunnyside where there were no people. He said we should go to his flat but I noticed the man that had dropped money earlier was following us. As we were walking, he called the man that I was with. I could not hear what they were talking about as I had my earphones on. I then realised that something was not right, I pointed to a stranger and claimed that he was my boyfriend so I could run away.
My friend told me that it is a common trick that perpetrators use to victimise people. I shared my story on the Unisa teaching page. Some students criticised me and said I was after money, while some attested to my story and said they had experienced the same trick where their belongings were taken away.
The initiative is good and I will use the pepper spray to defend myself.
Since not all Unisa gates have security officers, they must at least have cameras to monitor what is happening in and around the campus. We also have students from other institutions who come and study at Unisa. Allowing them access compromises our safety, so the security officers should be aware and alert.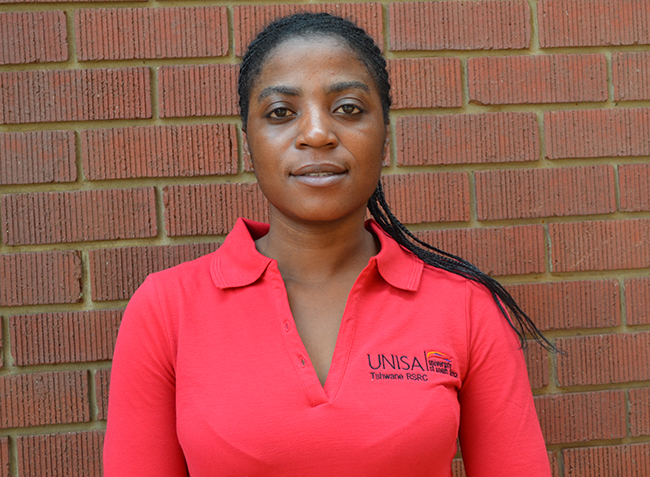 Rudorwashe Mpofu, Treasurer of Tshwane Regional SRC
We appreciate this great initiative by Unisa. Most students travel to and from different locations and as an ODeL institution, we do not have residences like other institutions. It is a great initiative that has come to rescue students and will give them the confidence to protect themselves.
A street like Nelson Mandela Drive is not safe so the pepper sprays will assist. The university also needs to intensify security on campus for students studying at different times, whether it is during the day or at night.
Simamkele Xani, Chairperson of the Tshwane Regional SRC
As the SRC, we support the ''Your Safety First'' initiative. A lot of students come to us about different concerns, including safety issues. Most of them are afraid to leave the campus and say there is a guy who touches them in an inappropriate manner. In such cases, we do not know how to react except to call campus security.
A week ago, a student was spotted by security but was never found. We have safety challenges that happen in our absence or that of security officers. We know that security officers cannot be deployed in every corner of the university. For example, they cannot be expected to escort students when they go to the restrooms or when they take breaks from studying.
As men, we have a big role to play in ensuring the safety of our female students around the campus. The fact is, when female students feel unsafe, they are actually scared of us as men. It is my responsibility as a man to make them feel safe around me.
This is why we are mobilising and encouraging students to get pepper sprays. We also give them instructions on how to use the devices in order to avoid misuse. Students should be responsible with these sprays and the university should not regret distributing them.
However, the number of security officers in our campuses is insufficient. We are not saying ''one student, one security officer'', but having more security officers will improve their visibility and lessen campus crimes.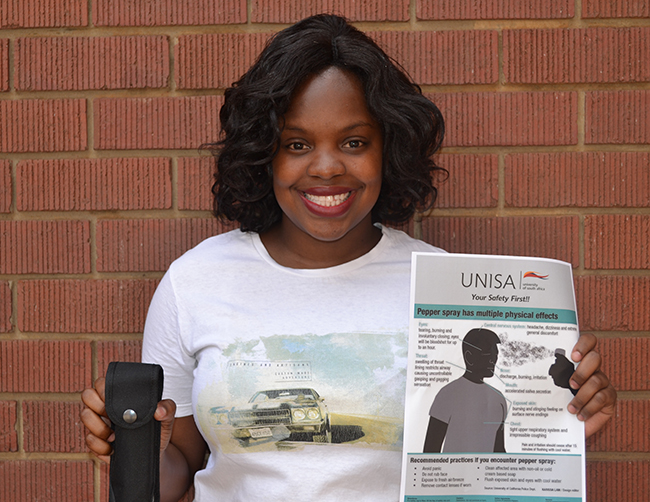 Thabiso Zimba
I like the pepper spray initiative as it gives us the opportunity to protect ourselves. I have been a victim of crime before. Someone followed me after noticing that I was walking alone, he pretended to be asking for directions but took my cell phone.
Unisa should improve their security system by ensuring that everyone who accesses the university presents a student card at the security gates. Students should not be allowed to swap cards with each other borrow the cards of other students.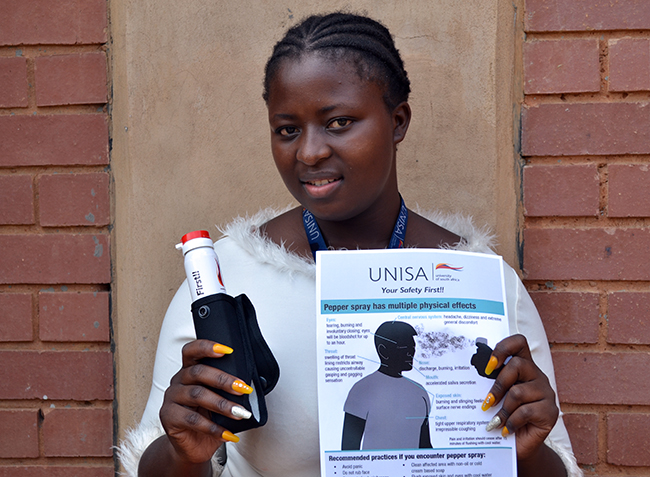 Tshegofatso Nawa
I have been a victim of crime. It was about two years ago when I was coming from the campus.
The initiative will improve our safety. However, I wish for the university to host more events that will give us a platform to talk about our challenges as students.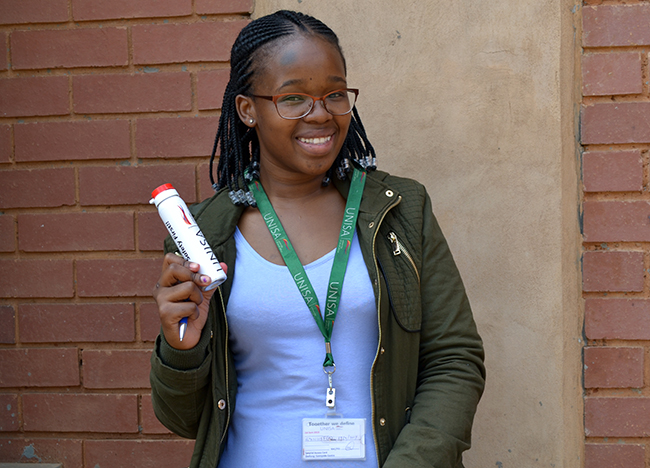 Tshidi Monyela
I have had a traumatic experience of witnessing some women being mugged.
The ''Your Safety First'' initiative will assist a lot of women who have to travel late after studying and have no one to protect them.
Unisa should arrange such initiatives more often, where they bring women together to talk about their experiences and give each other tips of how to protect themselves.
By Nancy Legodi, Acting Journalist: Publications
Department of Institutional Advancement