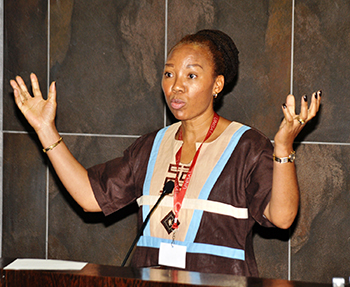 The Unisa Library has the privilege to announce the appointment of Prof Daisy Selematsela as our new Executive Director with effect from the 1st May 2017.
Prof Selematsela brings knowledge and expertise gained from other high profile organisations, such as the National Research Foundation (NRF), where she served as Executive Director: Knowledge Management and Evaluation and Knowledge Management Corporate.
She serves on a number of scientific bodies and was an editorial board member of the CODATA Data Science Journal and is a reviewer of several programmes. She also serves on the boards of several organisations, including the National Library of South Africa(NLSA), the Council for Library and Information Services (NCLIS), the Council of the National Archives of South Africa, the Information Training and Outreach Centre for Africa (ITOCA). Prof Selematsela is an Executive Board member of the Confederation of Open Access Repositories (COAR) and Member of the South African Bureau of Standards Knowledge Management Technical Committee - SABS TC 170 - Stakeholder Engagement 2015.
Prof Selematsela is a recent recipient of the Knowledge Management Leadership Award 2016 conferred by the Global Knowledge Management Congress in association with the World Education Congress Global Awards, held in Mumbai India, and is Professor of Practice of Information and Knowledge Management at the University of Johannesburg. She holds a Bachelor of Arts degree (Social Science), University of Limpopo, a Postgraduate Diploma in Information Science, a Master of Information Science (M. Inf.) and a D Litt et Phil degree in Information Science and Knowledge Management from the University of Johannesburg. She also holds a Fellowship of the Higher Education Resource Service for Women in Higher Education (HERS): University of Cape Town Graduate School of Business Leadership and Bryn Mawr College: Philadelphia, USA (31st Summer Institute for Women in Higher Education).
Our new ED is no newcomer to the Unisa Library and Unisa structures. She sharpened her skills and expertise at the University as she moved from one directorate to another, including Client Services, Knowledge Management, Information Literacy, Research Data Management, Digitization and Preservation, Records and Document Management. She has also provided support through keynote addresses at such events as Unisa's Open Scholarship Seminar (2014), where she provided various national reports and key issues on Open Science, Open Access and Open Data.
Driven by research outputs and transformational leadership
Prof Selematsela's research interests include knowledge management, open scholarship and institutional repositories, research data management, and open science, to mention a few. Transformational leadership is part of her vision for her new role: "I look forward to working with my team in the Library in a consultative manner at every level, as we are who we are because of the people we work with."
She also brings best practices from her international benchmarking and networking over the years, as well as a strong servant leadership policy meant to accelerate research output and she has an ear for student success needs: "In addition to our hard work, our efforts have to have impact," she says. "In the 21st century, information specialists require a clear vision of where we are at and where we are moving to".
Prof Selematsela believes in being proactive in relation to enhancing knowledge management. "We have to be business orientated and competitive, especially if we are to address the decoloniality agenda – knowing and guiding the African student and scholar – in order to add value to their research journey. In that way, we will be in support of transforming their competencies to match the 21st century."
Prof Selematsela hopes to contribute towards ensuring that Unisa is the university of choice and not of last resort.
Daisy the visionary
"Our students don't care if one works for the NRF or for Unisa. They want to receive the best service." In this regard, Prof Selematsela's vision bears in mind the national development agenda, and finding smart ways of achieving these goals. "I want to contribute to the national system of innovation," she adds. Her contributions go beyond her daily office work, as she continues to support, and mentor, young academics and LIS practitioners through MA and PhD supervision. "I want to ensure that I build tomorrow's leaders and specialists in the LIS field". She looks forward to giving back "to the institution that gave me the opportunity to grow, academically and professionally". She sees Unisa as a beacon of hope for Africans, regardless of age or circumstance. "I want to walk this journey where the Unisa Library will align itself to national imperatives – of access and transformation, among others."
The amazing daisy
Recently, she inspired a children's storybook, called Daisy a makatsang = Amazing Daisy, written by Nozizwe Herero, Siya Masuku (illustrator) and Leona Ingram (designer). The book is about Daisy, a little chicken, who dreams big and wishes she could fly.
Outside the office, the Unisa Library's new Executive Director still manages to get in her daily gym routine, weekend runs in the park and camping with her family.