Unisa's Kgorong Bamboo Auditorium was filled to capacity by Unisans and students who attended the two-day Curriculum Design and Development Workshop organised by the Curriculum Transformation Unit under the portfolio of the Vice-Principal: Teaching, Learning, Community Engagement and Student Support on 27 and 28 August 2018.
The purpose of the workshop was to design and develop an online transformation curriculum course, intended to train academics on how to integrate the principles of curriculum transformation in their programmes and module design.
The Teaching and Learning Development Directorate (DUTLD) team, comprising of Dr Sheila Kumalo, Phillemon Mahlangu and Manoko Seerane, also took part in facilitating and coordinating the workshop.
Speaking at the workshop, Dr Maria Madiope, Head of the Curriculum Transformation Unit, said that the online training course is specifically intended to train all academics in colleges. 'However,' she said, 'the best of the best will be selected to champion and monitor curriculum transformation across colleges, hence students are invited to voice and be engaged on curriculum transformation to shape their future educational experience.'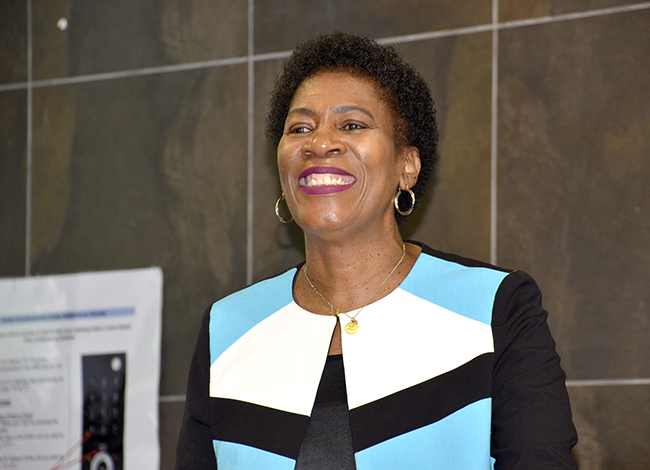 Dr Maria Madiope, Head of the Curriculum Transformation Unit, sets the tone
Madiope highlighted that the online curriculum transformation course will be monitored by the University Capacity Development Programme (UCDP) in the Department of Higher Education and Training. The programme is aimed at improving student development and decolonising the curriculum in universities. She further said that the online training course should include the transformation principles, HIV/AIDS, the United Nations Global Compact and multimedia incorporation.
According to Dr William Mpofu, a researcher at the Wits Centre for Diversity Studies, not all that is called decolonisation, decolonises. 'Effectively you can decolonise the curriculum using English, and a decolonised curriculum is not only shaped by experts,' he said. Mpofu explained that a transformed curriculum is one that is constructed with students in mind; it is built in consultation with students, lecturers and administrators, and in awareness of the societies and communities from where they all emerge. 'It liberates, re-humanises and dignifies the oppressed and previously disadvantaged peoples, it engages with inequalities and injustices of the past and proposes futures and visions, also it gives importance to histories and knowledge's of the people of the Global South,' he said.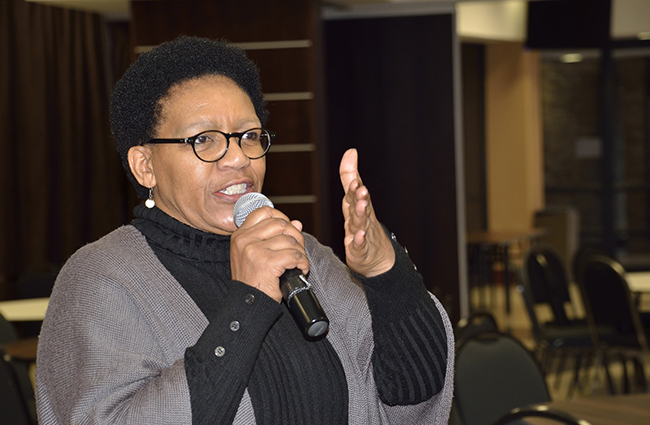 Dr Sheila Kumalo, DUTLD Specialist
Dr Moeketsi Sesemane from the Tshwane University of Technology shared with the audience how to prepare academics to transform the curriculum. 'Academics should decolonise their minds first,' he said, 'then they will know how to deal with the broad concept of curriculum transformation. We should also prepare our students, they should be ready.'
Dr Sheila Kumalo, DUTLD Specialist, said she believes that academics should learn how to decolonise content from a student's perspectives.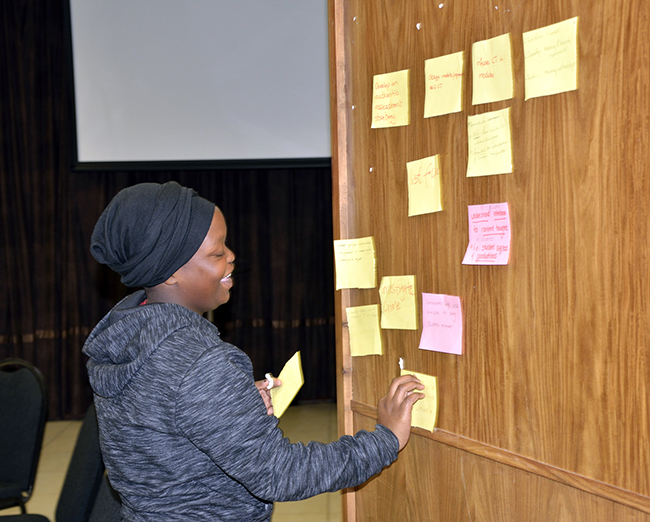 A student taking part in a knowledge-sharing exercise
Not only did the workshop give students an opportunity to ask questions and engage with experts, but it also produced knowledge that forms part of the content that will be used for the online transformation curriculum course.
* By Lesego Ravhudzulo