MSc student Dumisani Mlotswa has been featured in the Mail & Guardian's 200 Young South Africans supplement for 2019 in the category Science and Technology.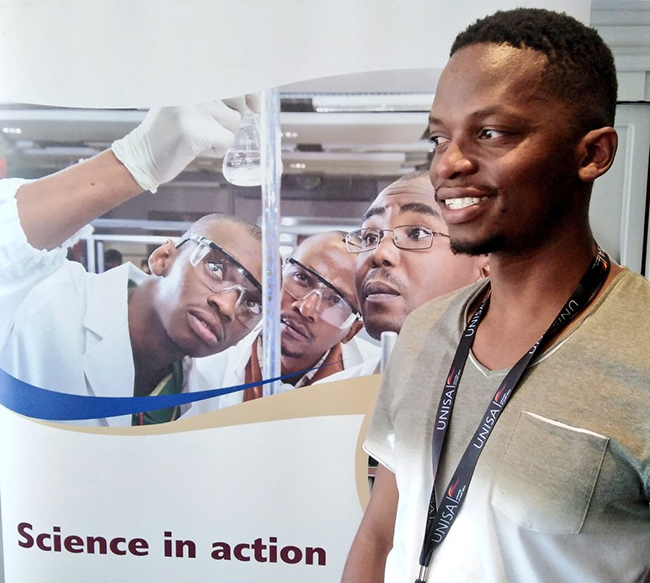 The 200 Young South Africans 2019 website fetes Dumisani as follows:
Dumisani Mlotswa, 28-year-old academic, is convinced that he was a quiet, sensible child growing up. However, urban legend has it that he was incredibly naughty, and would enter a room full of elders and shout "Mina ngi ngay'ivala le room nou!" without any fear of reprisal. Today, where he finds himself teaching in a high school classroom, doing research on a computer, or giving a lecture behind the podium in a lecture theatre, Mlotswa is equally at home working with brand-new research and young people's enthusiasm to learn.
His academic potential was realised in Grade 8 when he fell in love with the library and never looked back. Born in Phuthaditjhaba, a small town in the Free State, Mlotswa yearned for higher education before he even knew there was such a thing.
Currently, Mlotswa is pursuing an MSc in Physics, specialising in nanoscience and nanotechnology at the University of South Africa (Unisa). He also teaches first-year Physics on a part-time basis in the engineering department at the Tshwane University of Technology.
Financial difficulties caused him to pause in his academic trajectory after he attained his honours degree in Science at the Free State University. Circumstances forced him to branch into a teaching career, in which he has thrived. Mlotswa taught Maths and Physical Science to the senior high school pupils of Mohaladitwe Senior Secondary School in the Free State between 2015 and 2017. The school was acknowledged as one of the best performing schools in the province and the country in Maths and Science from 2015 to 2016: he set his pupils on fire with enthusiasm for the material. His current research relates to working with luminance material to emit light with electricity in the hope of developing a self-glowing lightbulb that is able to absorb protons from the sun and convert them into light. Now that he is back conducting research at a university, a part of him still misses teaching high school students, as the transformative potential to change young lives is high and quantifiable.
"High school students do not have the level of technology we have at university, but at a university level the approach is less hands on. You can only motivate people to a certain extent whereas at school the pupils are still being influenced by their teachers."
The excited Mlotswa, responding to how he feels about this achievement, said: "I am truly honoured, but I also realise the big responsibility that comes with the award. I hope this leaves the young ones inspired and eager to do better for themselves. Coming from a small town in the Free State, I believe everyone can achieve anything they set their minds to. I am grateful that the Mail & Guardian recognises the work we do in unseen hours. As young South Africans, we have a lot to offer. I believe we can do more than what we are actually doing now."
Dumisani has just submitted his MSc dissertation at Unisa where he worked on the luminescent dynamics of nanomaterials under the supervision of Professor BM Mothudi (Unisa), Dr LL Noto (Unisa) and Professor VR Orante-Barrón (University of Sonora, Mexico). Dumisani is also busy with his PhD proposal.
* Submitted by Thembeka Ntuli-Mpapama, Marketing and Communications Specialist, College of Science, Engineering and Technology