Unisa Library and the Msunduzi Municipality recently signed a memorandum of understanding (MoU) at the Bessie Head Library in Pietermaritzburg to provide students with greater library access.
The event, held on 3 October and attended by staff and officials from both partners, was steered by Mandla Ntombela, Director of Library Services at the Msunduzi Municipality Library. Councillor Sphamandla Khumalo welcomed guests and lauded the good partnership between Unisa Library and the Msunduzi Library, which is aimed at accelerating and improving access to information through using the library resources for educational and social purposes. Khumalo also highlighted the centenary celebrations of the lives of Nelson Mandela and Albertina Sisulu, the struggle stalwarts who fought tirelessly for access to information, water and education.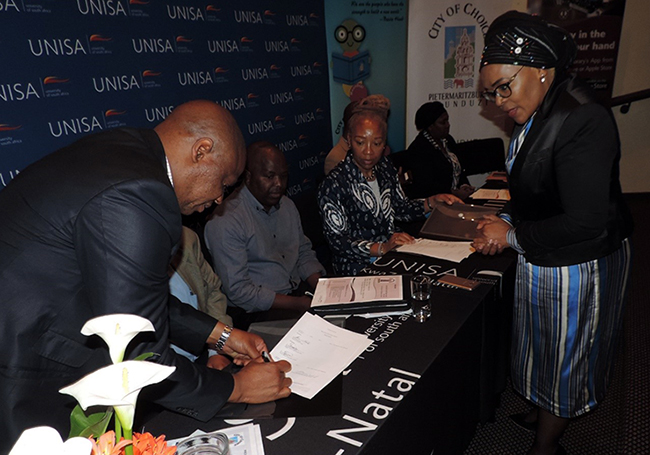 Mandla Ntombela (left), Director of Library Services at Msunduzi Municipality, and Nomonde Maqubela, Unisa KZN Library Manager, signing the memorandum of understanding
Dr Daisy Selematsela, Executive Director: Unisa Library spoke at great length about the purpose of and need for such a partnership between the two organisations. She emphasised the benefits that can be realised as a result of such collaborations like this one, which enable libraries to move forward in a digital era propelled by the explosion of ICTs and the fourth industrial revolution. Selematsela said that libraries' role is to come up with solutions to ensure that they conform to the fourth industrial revolution environment in the era of artificial intelligence, digitisation and robotics. 'We have to move away from seeing ourselves as librarians and start to embrace ourselves as information science specialists, 'she said. 'We need to ask if we are ready to heed the call to ensure that our services live up to the standards of the fourth industrial revolution. These days our students do not think about the buildings only when they think about a library, they now think about the apps and digital books and how to access them here and now.'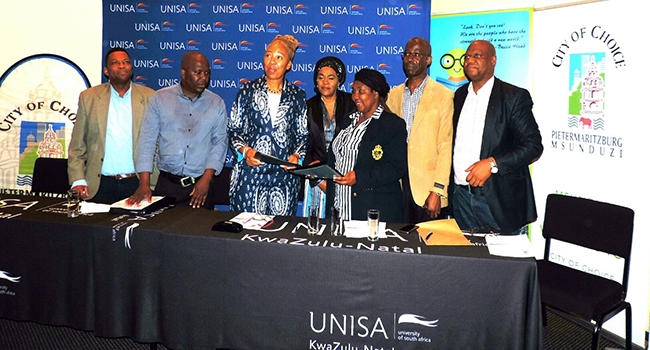 (From left) Xolani Dubazane, Unisa, Councillor Sphamandla Khumalo, Msunduzi Municipality, Dr Daisy Selematsela, Unisa, Nomonde Maqubela, Unisa, Boniwe Zulu, Msunduzi Municipality, Freeman Zulu and Mandla Ntombela,Msunduzi Municipality
Selematsela said that the MoU is about practically effecting four key areas: access, the cementing of the partnership, capacity building and transformation. 'This partnership,' she said, 'will therefore focus on access, transferring of skills, knowledge sharing, skills development, capacity building, staff development and training of the Msunduzi Municipal Library staff so that they can be able to provide library service to Unisa students. Unisa students' profile has changed and some do not know anything about using libraries, therefore there is a need to educate them on how to make good use of a library. Technology has advanced to a level where in other countries you will find a telephone booth as a digital library. This partnership will enable access to library services to about 11 000 Unisa students who reside in and around Pietermaritzburg.'
Xolani Dubazane, Deputy Regional Director, said since the Bessie Head Library was one of the biggest libraries in Africa and the main library of KwaZulu-Natal, Unisa is excited to partner with this municipal library. He further said that this partnership is a real beginning but what is important is progress. He likened this partnership to a marriage to be nurtured to be healthy and benefit our students and the community at large. He then emphasised the need of working together so that there is success. 'There will be no success if we are not working together,' he said. 'There is a need to build partnerships with other Unisa offices and surrounding libraries to benefit our students, the communities where we are located and other social partners.
Boniwe Zulu, General Manager for Community Services at the Msunduzi Municipality, mentioned that this is a very critical partnership and the Unisa students can use the library for study purposes and research. She said the library could be open for 24 hours a day to service the community and students. She also mentioned that information science specialists were working hard to help students when they need help and they were prepared to go the extra mile in servicing the students and community at large.
In a true African tradition, the ceremony was closed in style by several young poets who rendered a number of educational poems and praise-singing, which were well received by guests.
* By Mduduzi Ndunakazi