The Tshwane InterUniversity Innovation Challenge 2020 finally came to a spectacular close on 27 November with an awards ceremony to announce and celebrate the top innovators.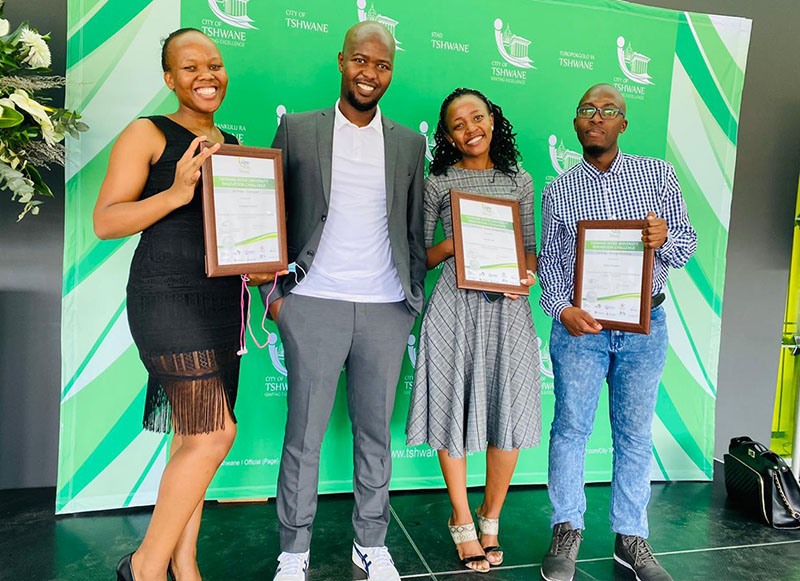 It has been a long journey since the challenge was first launched exactly a year ago, on 27 November 2019 by different stakeholders with the City of Tshwane. The different teams from Unisa, Tshwane University of Technology (TUT) and University of Pretoria (UP), who participated in the challenge presented their final pitches on 24 and 25 November.
The ceremony was attended by delegates from the students to the public and private sector who participated in the final pitches. Unisa was represented by its Principal and Vice-Chancellor (VC), Professor Mandla Makhanya.
"I was particularly impressed by the quality and standard of the pitches. It's heartening to see important competitions such as this helping to build the innovators of the future," Makhanya said.
The event was streamed live on Unisa's Facebook page and hosted by seasoned radio personality Ashraf Garda who kept the guests engaged and entertained.
There were twelve places up for grabs in four categories: Electricity and Energy, Waste Management, Revenue Collection (the third place in this category was not presented) and Transportation. Unisa secured three places of which two were for projects led by women innovators.
By claiming top honours in the Energy and Electricity category, Unisa's Kgalabe Mongatane earned the opportunity for his innovative idea to become a reality. The award was presented to him by the university's VC and Executive Mayor of Tshwane Randall Williams.
His win brings him seed funding to the tune of R150 000 to develop his project, and he will also participate in the new Blue Ocean Awards to be held in Bordeaux, France in February 2021.
Two other Unisa teams each secured R50 000 in seed funding opportunities. They were Pertunia Ndou's team who took third place in the waste management category, and Immaculate Matloga's team who was placed third in the transportation category.
Speaking at the awards, held at The Innovation Hub, Tshwane Mayor Randall Williams emphasised that competition winners do not receive cash prizes. Rather, by entering into incubation agreements to develop their innovations, they gain access to seed funding, mentoring and the opportunity to pilot their projects.
Mayor Williams said Tshwane wanted to see the winners build viable businesses, so the city and its partners would be supporting them all the way, releasing funding as milestones were reached.
The innovation challenge is supported by the City of Tshwane, the three universities based in the city, namely the Unisa, UP and TUT, along with Entrepreneurship Development in Higher Education (EDHE), Tuksnovation, Eskom, the French Embassy, Human Sciences Research Council (HSRC), The Innovation Hub and the Technology Innovation Agency (TIA).

Turning bright ideas into viable businesses
The message from the inaugural Tshwane Inter-University Innovation Challenge was clear: innovative ideas alone are not enough and must be nurtured and developed into viable business opportunities.
Speaker after speaker at the awards function encouraged students to see their innovations through.
Professor Mashudu Tshifularo from UP led the first team in the world to use 3D-printed bones for reconstructive middle ear implants in 2019 and challenged students to champion their innovations.
Pointing out that 95% of patents do not make it through to production, he asked students in which percentage they would fall. "Be producers, not consumers," he advised.
Tshifularo said innovators needed to take ownership of their projects and to be ready to grasp funding opportunities and sell their ideas.
The challenge was all about giving students opportunities and for the City of Tshwane to produce home-grown solutions for service delivery challenges.
Eight teams from Unisa, ten from UP and six from TUT took up the challenge and pitched solutions for the City of Tshwane in four service delivery categories.
The good news for Unisa's participants who pitched ideas is that the Directorate of Innovation, Technology Transfer and Commercialisation (DITTC) will be on hand to support them. This support will be through the newly established Pre-Incubation Programme, where they will get project management support, intellectually property advice, mentorship support and other services required to take their projects further.
DITTC sees all participants as winners which is why they extended their support as they see potential in all the solutions offered. It is encouraged by the participation of Unisa students in this challenge and would encourage other students to participate in events like this advertised on the university's media platforms.
With their wins and participation, the three teams are not only contributing to making Tshwane the City of Innovative Excellence but fulfilling the Unisa vision of being the African university shaping futures in the service of humanity.
*Submitted by the Department Research, Innovation and Commercialisation