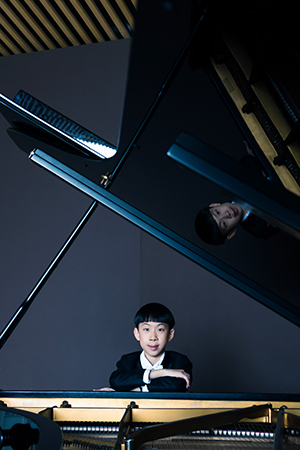 Only a few years into his musical journey, fifteen-year-old Hao-Wei Lin from Taiwan, one of the three candidates who were announced as finalists of the 14th Unisa International Piano Competition, is clearly destined for great things. Hao-Wei, the youngest candidate ever to participate in Unisa's International Piano Competition, has already charmed audiences across the world with performances in Taiwan, Canada, China, Denmark, Germany and Switzerland, among others.
Hao-Wei started playing the piano at the age of six and gave his first recital when he was only ten years old. Since then he participated in several international young artist competitions and his achievements include a first-place finish at Bradshaw & Buono in New York and Grotrian Steinweg in Germany, as well as awards for performances in France, the United States, Denmark and Poland.
These accolades notwithstanding, Hao-Wei says the 14th Unisa International Piano Competition is the biggest competition that he has entered up to now. While he previously entered completions aimed at young artists, he sees this competition as an opportunity to watch and learn from adult performers. He is not deterred by being the youngest candidate and had a similar experience last year when he was also the youngest pianist to participate in a piano competition in France.
Lin says his dream is to be a concert pianist travelling the world. He would love playing with the Berlin Symphony Orchestra, preferably a piece by his favourite composer, Maurice Ravel, whose music, he says, speaks of lots of imagination.
And, his unique hairstyle? "This is to ensure that the jury remembers me," he laughs.
* By Nancy-Anne Anderson, Department of Institutional Advancement