A 30-month, multimillion-rand study on international distance education in Africa is drawing to a close, offering some fresh – and sometimes unexpected – insights into the study habits, challenges and attitudes of Unisa's international students.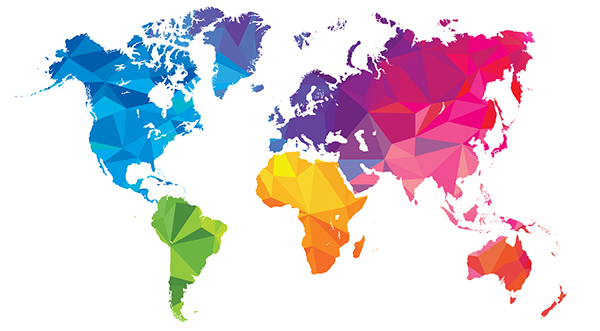 'We have hard data showing that the international students who participated in our project are engaged, proud and happy to be part of Unisa. For the most part, they are well adjusted and doing well,' says Professor Ashley Gunter of Unisa's Geography department and joint principal investigator of the study, entitled International Distance Education and African Students (IDEAS).
The high level of engagement among the approximately 1 800 students who took part was a pleasant surprise, he says, as the international literature indicates that international distance education (IDE) students tend to feel isolated and alienated.
This was not the case with Unisa's international students, according to the study, which was a collaboration with the Open University United Kingdom. Starting in mid-2016, a team of 12 researchers conducted 180 face-to-face interviews and received 1 700 online survey questionnaires from Unisa students in Namibia, Nigeria, South Africa and Zimbabwe.
The aim was to investigate students' experiences and challenges of studying through Unisa, focusing on the sciences, technology, engineering and mathematics, and to find ways to improve the quality of support available to them.
'The result is a treasure trove of data that will be locked for a year when the project ends in March 2019 and will then be open to the public,' Gunter says. This will be via Unisa's Institutional Repository and the Open University UK's data platform.
International collaboration
The other principal investigator for the IDEAS study was Professor Parvati Raghuram, Director of the OpenSpace Research Centre at Open University UK. Team members were academics and postdoctoral associates from the Open University, University of Leicester and Unisa, which was represented by Gunter and Professor Paul Prinsloo, Research Professor in Open Distance Learning.
Grant funding for the study totalled R10 million and came from the UK's Newton Fund and Economic and Social Research Council, and South Africa's National Research Foundation.
The study, which made intensive use of the Open University's expertise in data analytics, covered four main areas: study trends and habits among the participating students; how well adapted the students were based on a Student Adaptation to College questionnaire; the potential for adapting UK learning design materials for African conditions, and student migration and post-study intentions.
'For example, we wanted to know if students were intending to join the brain drain,' Gunter says. 'Our findings support students not leaving the continent but rather looking to upskill where they are. What's more, studying through Unisa is not about getting a South African qualification but rather about the value for money and high standard of education that Unisa offers.'
A 'huge incentive' for many students is that they do not have to travel frequently or far to further their studies through Unisa. 'Unisa's reach into Africa is really contributing to the service of humanity,' he says, pointing to the lack of opportunities for higher education in some of the countries surveyed. 'In Nigeria, there are hundreds of universities but they receive two million applications a year and the acceptance rate is only 2%.'
While Unisa is generally highly regarded among participating students, the study has also pinpointed some challenges, such as an average gap of three weeks from the time students register until the time they actually go online.
Another concern is that international students sometimes find it difficult to navigate Unisa's administrative processes, including registration, and often turn to "proxies" living in South Africa to help them.
Gunter says the IDEAS project will be officially wrapped up in March 2019, with a special presentation planned at Unisa's Science Campus on 7 March.