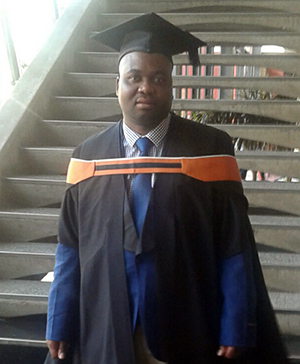 Mzoxolo Gora is the first student ever to successfully complete a BA Honours in Corrections Management through Unisa's Recognition of Prior Learning (RPL) programme.
Gora managed to complete a BA Honours in Corrections Management in one year, and picked up two distinctions along the way. Unisa's RPL office granted him access to the qualification due to his valid work experience as a Correctional Officer at the Mount Ayliff Correctional Centre in the Eastern Cape.
For Gora to finally achieve his goal, he had to overcome obstacles such as tending to the needs of 180 offenders and surviving odd working hours. He credits RPL office for support and encouragement throughout. "I was the only one doing this qualification, hence I committed myself to my studies because I wanted to pass. And here are I am —I made it with two distinctions! I am also grateful for the lecturers' assistance because they were there for me in difficult times."
The RPL programme is provided by the Tuition Support Division of Unisa's Instructional Support and Services Directorate, where relevant knowledge gained from work experience is assessed to get possible module credits or access to a qualification. The programme permits students to gain credits within formal qualifications or direct access into postgraduate studies. It also acknowledges learning which take place outside formal education and training. The acquired skills, competence and working experience are recognised regardless of where or when it was obtained.
The Ubuntu philosophy holds that if people are treated well, they are likely to perform better, says Dr Francois Louw, a lecturer from the Department of Corrections Management. "I played a supportive role, not as a supervisor but as a mentor in Gora's academic achievement," says Louw. "I use a humanistic approach to teach by being supportive rather than critical. Gora was a positive and enthusiastic student who was willing to go the extra mile to be successful with his studies."
According to Muhle Lewis, RPL Coordinator, the student was recognised for having work experience. "It gives me so much pleasure to know that I have changed someone's life for the better," she says. "Indeed, I contributed to give him a chance of education to fulfil his dreams. We recognised his experience, asked him to compile a portfolio of evidence, assessed it, and admitted him to the qualification. The requirement was 10 years' working experience in the corrections industry of which three years had to be in a managerial position."
Lewis, who led Gora through the RPL journey from start to end, says it is fulfilling to work with students like him who share the common goal and sentiment. "I am honoured to shape the future of Gora and other students who applied for the RPL," she concludes. "I rely on courage and commitment as part of the 11Cs+1 to support potential RPL students.
* By Lesego Ravhudzulo, Journalist, Department of Institutional Advancement