Following a great deal of hard work during four weeks of intensive training, 37 hand-picked young women from 22 countries across Africa received certificates presented by the Women in African Power (WiAP) programme on 17 April 2019 at Unisa.
Hosted by Unisa Graduate School of Business Leadership (SBL) and the Young African Leadership Initiative (YALI) Regional Leadership Centre for Southern Africa (RLC-SA), the event also featured the unveiling of the new YALI Africa logo. YALI Africa will promote and perpetuate the signature US government effort to invest in the next generation of African leaders in the energy sector.
Africa carries hope to the rest of the world
Delivering the keynote address, Dr Shiferaw Teklemariam, Ethiopian Ambassador to South Africa, said the need for new leadership offering new perspective in the application of governance principles cannot be overemphasised in a continent where most of the population comprises of young people under the age of 35. 'We need leadership which is consistent in its articulation of the vision as well as its application of principles' he said.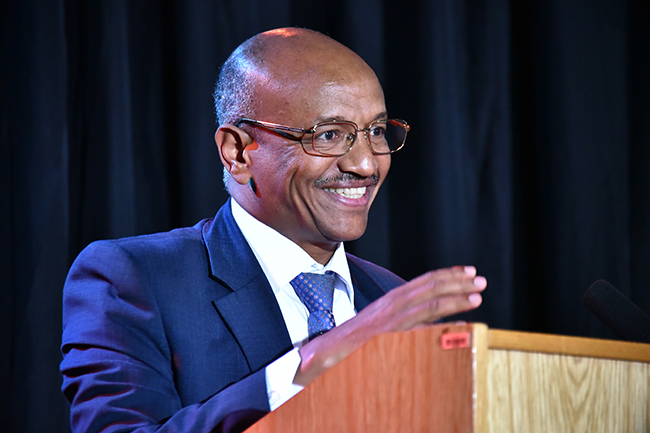 Dr Shiferaw Teklemariam, Ethiopian Ambassador to South Africa
Teklemariam challenged young women graduates to indiscriminately offer their leadership to all members of their communities, equally. He also pleaded with them to be the shining light that brings hope to the rural tranquillity, to help manage and feed the appetite of urban gluttony in a sustainably manner. 'As you graduate today,' he said, 'Africa will look upon you to rise to the challenge and engage robustly in bringing much needed solutions of the problems confronting the continent.'
Addressing the leadership vacuum
In his welcome address, Professor Mandla Makhanya, Unisa's Principal and Vice-Chancellor (VC), emphasised the importance of having well-trained female leaders across all spheres of endeavour to address the dearth of excellent leadership. 'As things stand currently,' said the VC, 'we will end up with a leadership vacuum within the next decade or so, which poses a real danger of precipitating numerous continental and national conflicts and crises.'

(From left) Richard Nelson (Deputy Coordinator: Power Africa), Rebecca Krzywda (Deputy Mission Director: USAID, Southern Africa), Prof. Mandla Makhanya (UnisaVC), Cristal Peterson (Deputy Director: Communication and Marketing , Unisa SBL)
The VC assured the audience that the university is firmly geared towards the future and committed to playing its role in the process. He added that the university is growing tomorrow's great leaders and businesspeople, both female and male. 'We share our goals and vision of being the African university shaping futures in service of humanity,' he said. 'We are a university of the people, and for the people of this country, continent and the world. We look forward to sharing in the graduations of many more leaders in future, across YALI's three tracks of business entrepreneurship, civic leadership, and public policy and management.
Graduates in their own words
Daisy Katsoka (Malawi)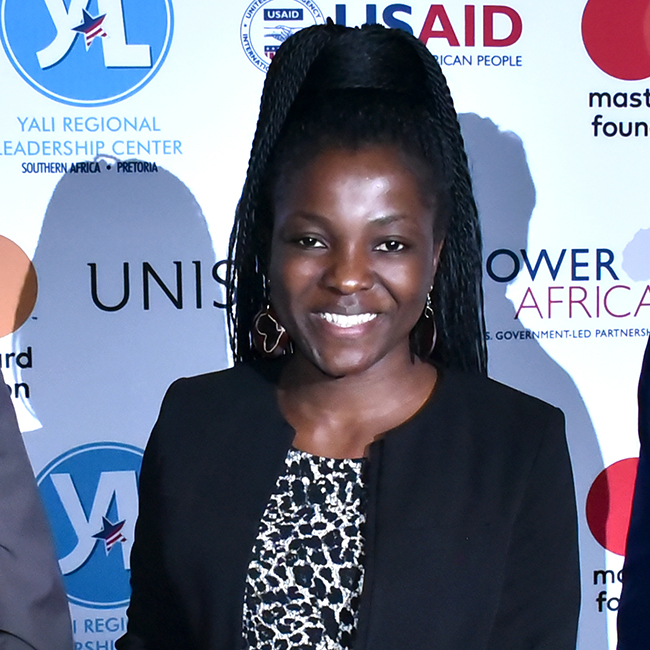 Passionate to work in energy projects, Daisy Katsoka, an environmentalist in the energy sector and consultant in environmental management, said the programme has been impactful as it has given her a chance to network with incredible women in the energy sector. 'I have gained more knowledge in energy but also leadership skills and learnt from the journeys of energy sectors in other countries. I am going back to my country to make a change, and also to be the change,' said Katsoka.
Beryl Atieno Ajwang (Kenya)
Beryl Atieno Ajwang is a senior manager at a multi-consulting company based in Nairobi called EED Advisory Limited. Quoting author John Mason, Ajwang said 'You were born original, so don't die a copy. This accurately describes the theme of authentic leadership that we tackled during the programme about authentic leadership. In a world filled with imitation and copy cats, these words were enlightening for me as an emerging leader. It is not only such great lessons on leadership that I carry away with me, but a network of intelligent, courageous, innovative and ambitious young women who are determined to steer this continent into greater heights of governance in the energy sector and beyond. I feel like a movement has begun, one whose end we may not know but whose force we cannot deny.'
About the Young African Leadership Initiative
YALI seeks to develop multiple cohorts of young African leaders in business and entrepreneurial development, civic leadership, public management and governance through a hybrid of innovative and complementary approaches. Moreover, participants are exposed to contact sessions, online mentoring, online self-paced tuition, networking experiences, industry experience and experiential learning.
* By Lesego Ravhudzulo (Journalist, Department of Institutional Advancement)