On Friday, 7 December 2018, the University of South Africa (Unisa) unveiled commemorative plaques honouring the centenary of the births of Nelson Mandela and Albertina Sisulu. The centenary coincides with the institution's 145thanniversary as a beacon of hope on the continent and beyond.
The audience, which included ambassadors, high commissioners and leaders of various governments, was greatly moved by songs dedicated to the two struggle giants, written especially for the occasion and performed by the award-winning Unisa Choir.
Mandla Langa, writer, activist, and author of, amongst others, Dare not Linger: The Presidential Years, spoke on the topic of reclamation. He shared fond personal memories of Madiba and Mama Sisulu, and said that they both were characterised by their innate generosity and selflessness. 'My call to action to all of you,' concluded Langa, 'is to honour these two leaders and reclaim our legacy of struggle.'
Important to question the legacy
Ndileka Mandela, granddaughter of former President Mandela, said that it was very important to look at the context of her grandfather's legacy. 'It is important to give those who want to question his legacy the space to do so,' she said, 'and engage in dialogue on how to move forward. If we don't question, we don't learn from history. But we also need to look at the context: what made Mandela what he was? What informed him?'
Mandela said that it was important to note that Madiba grew up watching tribal council and seeing how it was conducted. 'The chief would listen to each and every member of the tribal council before coming to a decision. That gave rise to the participative and inclusive leadership of my grandfather. He was also informed by choices. He chose to embrace education. When the choice was presented to him to become a hot-shot lawyer earning lots of money, he chose to fight for his people. Later, in prison, he was given the choice on three occasions to be released under certain conditions, but he refused. Finally, he chose to enter into dialogue with his enemy, which brings us to the importance of sitting around the table engaging with those who disagree with you. That was an essential part of the legacy of my grandfather.'
In closing, Mandela implored South Africans to look at the value-based leadership styles of both Mandela and Mama Sisulu – leadership based on moral and ethical values, something that is sadly lacking in the present day.
'Deep respect for the rights of all'
Eleanor Sisulu, daughter-in-law of Albertina and wife of son Max, made special mention of the Unisa Choir's special compositions and moving performance. She said that 2018 also marks the 70th anniversary of the creation of the Declaration of Human Rights. 'We have had many human rights challenges on our continent,' said Sisulu, 'and Mama Sisulu and Nelson Mandela were prominent in building a human rights culture. These two leaders respected human rights in both word and deed. They had a deep respect for the rights of all, especially the most vulnerable members of our society.'
Sisulu said that the two stalwarts were dedicated to a better life for our children. 'They were dedicated in everything they did to leaving behind something so that our children could have a better life,' she said. 'My hope is that in the coming years we can turn around the dire situation children now face and go back to that time when our leaders truly worked for the children of this country.'
At the culmination of the ceremony Professor Mandla Makhanya, Unisa Principal and Vice-Chancellor, unveiled the commemorative plaques flanked by family representatives, and read out the inscriptions on each: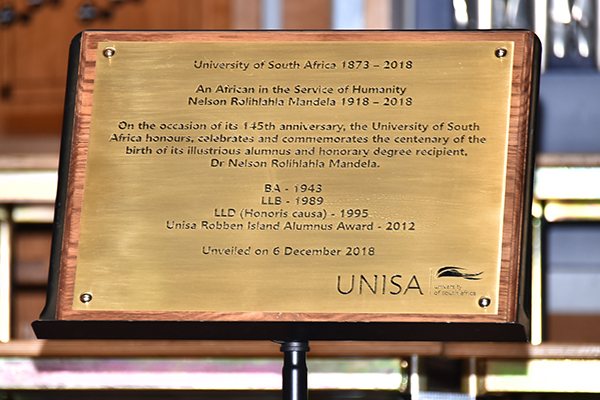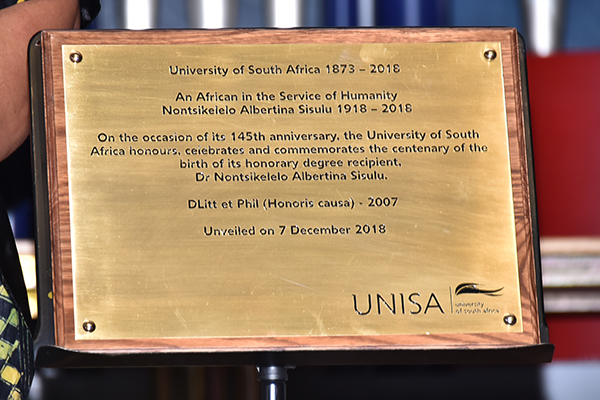 * By Philip van der Merwe