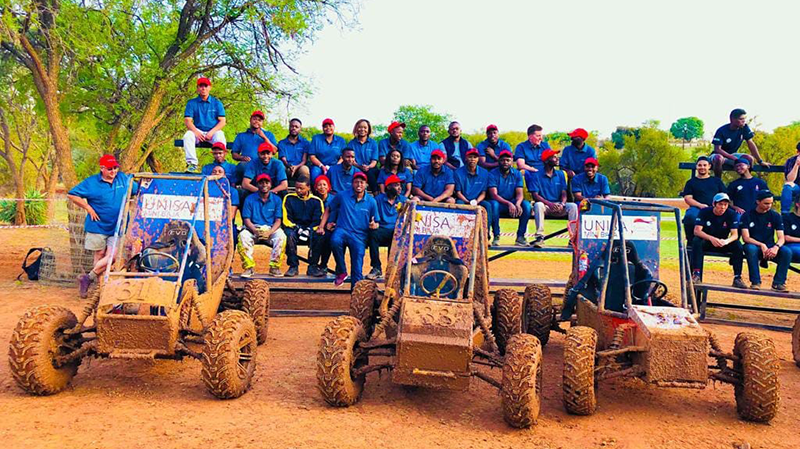 Executive Dean Professor Bhekie Mamba and the entire College of Science, Engineering, and Technology (CSET) management wish to congratulate the team of engineering students and staff under the leadership of Dr Thembalani Sithebe from Unisa's Department of Mechanical and Industrial Engineering that obtained the number one spot in the Mini Baja Competition held on 26 October 2018.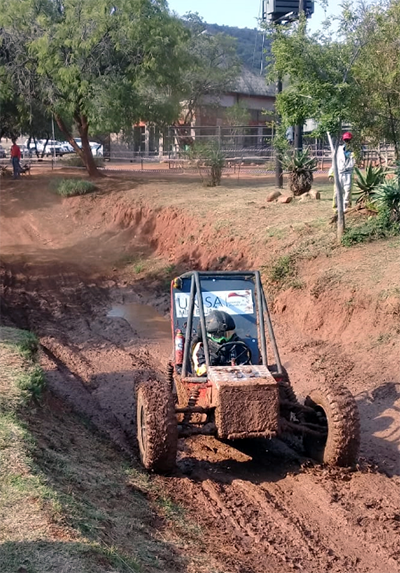 Baja SAE® is an intercollegiate engineering design competition for undergraduate and graduate engineering students. The object of the competition is to simulate real-world engineering design projects and their related challenges. Each team competes to have its design accepted for manufacture by a fictitious firm. The students must function as a team to design, engineer, build, test, promote, and compete with a vehicle within the limits of the rules. They must also generate financial support for their project and manage their educational priorities.
In 2018, six cars entered, three from Unisa and three from the University of Pretoria. The number one and two overall winners were from Unisa.
Initiative and ingenuity of students
The project requires students to design and build a prototype four-wheel, single-seater, off-road recreational vehicle to meet a given set of design specifications. The vehicle must be safe, easy to transport, fun to drive, and good looking. It should also be able to negotiate rough terrain and handle anything a recreational user will most likely put it through. Apart from certain minimum safety requirements, the design is open to the initiative and ingenuity of the students.
According to Sithebe, each team's goal is to design and build a single-seat, all-terrain sporting vehicle whose structure contains the driver. The vehicle is to be a prototype for a reliable, maintainable, ergonomic, and economic production vehicle that serves a recreational user market, sized at approximately 4 000 units per year.
The vehicle should aspire to market-leading performance in terms of speed, handling, ride, and ruggedness over rough
terrain and off-road conditions. Performance is measured by success in the dymanic events, which are described in the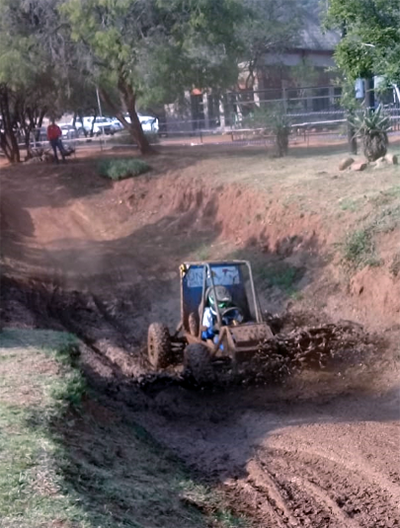 Baja SAE® Rules, and are subject to event-site weather and course conditions. Eligibility is limited to undergraduate and graduate students to ensure this is an engineering competition rather than a race.
Alternative to work integrated learning
Professor Fulufhelo Nemavhola, the head of the Department of Mechanical and Industrial Engineering, congratulated the team and mentioned that the importance of this project cannot be overemphasised, since it provides students with a practical way of learning directly what was taught in class.
In 2018, Unisa had three vehicles and three teams. Sithebe says that the Mini Baja project is used as an alternative to work integrated learning (WIL) project-based learning. The department had 23 WIL (MCP101E & MCP201E) students enrolled in this project. The time scales were:
Vehicle design—three months
Practical training, i.e. welding/fabrication, machining, use of workshop machines, such as lathes, milling, CNC, and hand tools runs concurrently with design.
Fabrication of the vehicles—four months, or up to the competition date.
Vehicle specific systems, such as roll cage, braking systems, drive train, steering, driver systems, safety requirements, and general conformation to the SAE Baja rules run concurrently with the vehicle fabrication.
The mini Baja project also includes finance and administration (Sithebe and Sandile Khambule) and systems champions (i.e. specialists in specific systems, such as fabrication; machining/workshop general, drive train, braking system, steering system, clutch—all by technical staff Johan Hanning and Christopher Baatjies).
*By Thembeka Ntuli-Mpapama