Since Africa Day 2020, the Unisa College of Human Sciences has been inviting its stakeholders on a weekly basis to learn an African language, free of charge. This service is available via the Department of African Languages website, where anyone who has access to the internet, is encouraged to learn some basic phrases in an African language online, and thereby empowering themselves by speaking another language.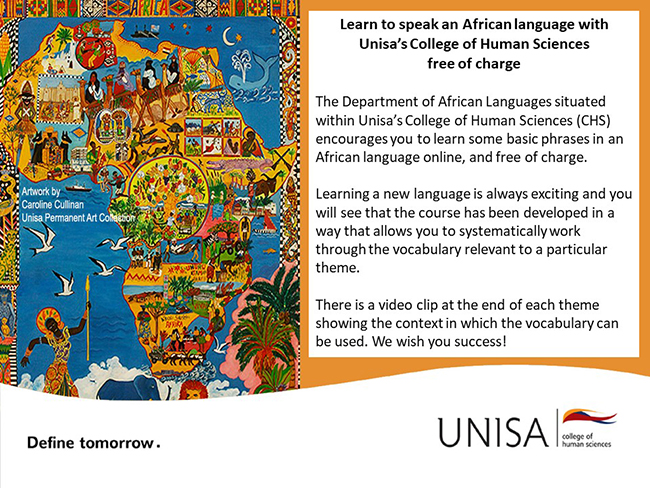 Staff and students are also encouraged to access this platform, and engage with the material that has been made available online free of charge. There is no doubt that learning a new language is always exciting and staff, as well as other stakeholders, will see that the course has been developed in a way that allows one to systematically work through the vocabulary relevant to a particular theme. There is a video clip at the end of each theme showing the context in which the vocabulary can be used.
Available on the platform is information on the nine African languages that form part of South Africa's official languages. These are isiXhosa, isiZulu, Tshivenda, Xitsonga, siSwati, isiNdebele, Sesotho sa Leboa (Northern Sotho), Sesotho (Southern Sotho), and Setswana. These languages belong to a large family of languages, comprising more than a thousand languages and dialects, which are spoken largely in equatorial Africa and to the south of it.
South Africa's African languages are divided into the following four main groups:
Nguni, which includes isiXhosa, isiZulu, siSwati, and isiNdebele;
Sotho, which includes Sesotho sa Leboa (Northern Sotho), Sesotho (Southern Sotho), and Setswana;
Xitsonga; and
Tshivenda.
Given that there are so many similarities between the African languages, it is generally accepted that they all developed from some common proto-language form, known as Ur-Bantu. These languages are often still referred to as the "Bantu" languages. In this regard, it is important to note that while the term "Bantu" fell into disrepute during the apartheid era when it was misapplied, it is nevertheless the most accepted term internationally. Lessons are currently offered in Sesotho sa Leboa (Northern Sotho), Sesotho (Southern Sotho), isiXhosa, isiZulu, and Setswana. There are upcoming plans to extend these offerings.
Speaking on the importance of staff, and all other stakeholders, in utilising this free platform, Chair of the Department of African Languages, Professor Pinkie Phaahla, said "Following humble requests and interest in learning indigenous languages by Unisa staff, the Department of African Languages decided to make available four indigenous languages on the department's website. When lessons in other languages are available, they will also be uploaded on our website. We sincerely appreciate those who want to learn another language for it is quintessential to be versatile with languages. Those who learn new languages stay smarter and research shows that it helps stall Alzheimer's and dementia as learning a new language engages your brain."
Click here to go to the website: https://www.unisa.ac.za/sites/corporate/default/Unisa-Open/OER-@-Unisa/Learn-to-speak-an-African-Language
* Compiled by Rivonia Naidu-Hoffmeester, Communications and marketing specialist in the College of Human Sciences.