News & Events
It's graduation season at Unisa, and as part of the current series of ceremonies a number of master's and doctoral graduates proudly walked the stage on 2 December 2021 in Unisa's ZK Matthews Great Hall. A jovial mood was evident at the entrance to the Winnie Madikizela-Mandela Building with cheers and photo-taking among graduates who were receiving their qualifications on the day.
Despite Covid-19 regulations, the university managed to arrange in-person graduation ceremonies to capture big moments and milestones of the graduates. The attendees of the series of graduation ceremonies complied with level-1 restrictions by wearing masks, sanitising and keeping a safe distance.
At the graduation ceremony, myUnisa interviewed Unisa graduates about their qualifications, careers and future study plans.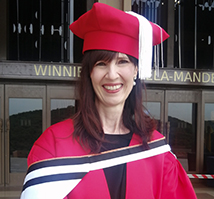 Megan Vercueil, Qualification: Doctor of Business Leadership (DBL)
"I work at MTN and this qualification will add value in my work environment because it broadened the horizons of what I can do. It helps me to speak confidently about women empowerment, thought leadership and strategy in the technology industry. I intend to study board certification in future so I can sit on the company board. This country is in dire need of ethical leadership, accountability and morality."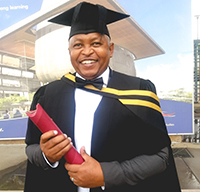 Andile Nqodi, Qualification: Magister Technologiae (MTech), Engineering : Electrical
"I work at Transnet Engineering and I believe this Masters in Electrical Engineering will not only benefit me but also the organisation. Nowadays, merely having a degree does not necessarily guarantee having a decent job or career. In order to sustain a long career, you need to have the extra edge. Currently, South Africa is challenged with insufficient electricity. As engineers. it is important that we assist our country to find efficient ways to produce and store electricity while striving to reduce greenhouse gases. My future study plans are to pursue a PhD in Electrical Engineering."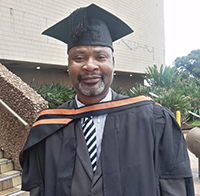 Ezekiel Katsirizika, Qualification: Master of Information Science (MInf)
"I am currently unemployed, and this qualification will add value in my future employment because information science is a wide subject and everybody uses information. Through this qualification I am able to select the right information for different purposes. As an information scientist I can easily identify fake news and websites. I know how to keep myself safe from cybercriminals. My future employer will benefit from my knowledge because I will package the right information for them. I will possibly be employed at a library. People think they can find information without librarians, that is not correct. A library without a librarian is just a warehouse for books – so we add value to information. Going forward, I have applied for admission to a PhD. If I get accepted I would like to pursue it vigorously and complete it as soon as possible."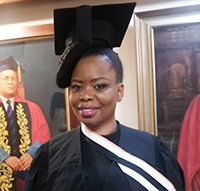 Happy Nonkonyana, Qualification: Master of Business Administration (MBA)
"I am employed at an oil and gas company. This qualification will elevate my career and help me to grow towards a senior role such as heading a department and advance to senior management. Through this qualification and the knowledge I learnt I can also become an entrepreneur to grow South Africa's economy. My future study plans are to obtain a PhD in business."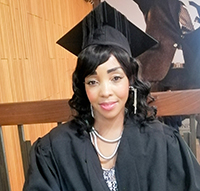 Fadzi Patricia LedwabaQualification: Master of Business Administration (MBA)
"I am an admitted attorney working at the Road Accident Fund. This qualification will help me to lead strategically in ensuring execution of strategy, performance, and budgetary checks and balances within the public sector in line with the applicable legal prescripts. Through this qualification and what I have learnt I will advocate for a change of culture in management. My future study plans are to complete a PhD in Law and also a Doctor of Business Leadership (DBL)."
*By Lesego Chiloane-Ravhudzulo, Journalist, Department of Institutional Advancement