News & Events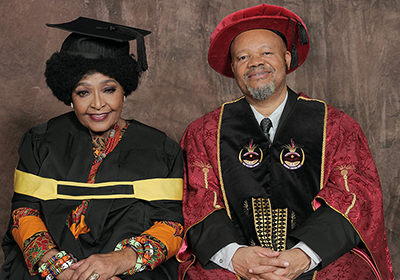 Winnie Madikizela-Mandela, iconic anti-apartheid campaigner and 'Mother of the Nation', has passed away at the age of 81. According to a statement released by her family, the former wife of Nelson Mandela died after a long illness' for which she had been in and out of hospital since the start of the year. She succumbed peacefully on 2 April surrounded by her family and loved ones.
Unisa is proud to have hosted Madikizela-Mandela at one of her final public functions when she attended the graduation of her granddaughter, Zoleka Mandela, last month. In a message of condolence to her family, Principal and Vice-Chancellor Professor Mandla Makhanya spoke of her role as family nurturer and said how he had been struck by her humble strength and the true love she felt for her children and grandchildren.
In a broader context, Madikizela-Mandela is one of the greatest icons of the struggle against apartheid. She kept the memory of her imprisoned husband Nelson Mandela alive during his years on Robben Island and helped give the struggle for justice in South Africa one of its most recognisable faces.
"All South Africans are indebted to Mama Winnie, whether they acknowledge it or not," says Nelson Mandela Foundation Chairman Professor Njabulo Ndebele. "From the witness of her life, we knew we could stand tall; we knew also we could falter and stumble. Either condition was an affirmation of life."
Unisa will miss her. And the country and the world will miss her. Hamba kahle, Mama.
By Sharon Farrell