News & Events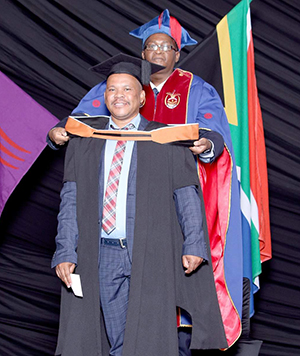 My name is Lwazi Mestile. I grew up in Willowvale, a remote town in the former Transkei. I came to Pretoria after matric in 1995.
I thought I had it all in life after passing matric. To my surprise I ended up working as a security guard for nine years at different locations in Pretoria. On my shift job as a security guard I was posted at a scrap metal factory in Hercules where I worked the night shift. I was teamed up with an old man who regarded himself as a team leader. On a cold winter's night he asked me why I was not in school. I responded with a bit of annoyance, I then angrily said I finished school. He then asked me what my highest qualification was. I boasted that I had just finished matric. He then said: 'Young boy, you are playing. Go and study, you cannot be a security guard forever.'
I did not take this old man's advice seriously until I became frustrated and saw my dream of a better life perishing. I registered at Unisa for a National Diploma in Archival Studies which I managed to obtain cum laude in 2010. I then furthered my studies with Unisa in 2011 with a Post-Graduate Certificate in Archival Studies and continued in 2018 graduating with Honours Degree in Archival Science. I am currently reading for my Master's in Information Science with Unisa.
I managed to leave my security job after obtaining the diploma to work at Unisa. I then left Unisa for the North West Department of Arts and Culture where I was employed as an archivist. I left the department after one year to join the Auditor-General as an Assistant Manager of Archives and Records Management. Currently I am heading the University of the Free State's Archives and Records Management Department.
I am at a loss for words to describe my appreciation for the way Unisa has really shaped my life and made sure that my kids have a bright future. I always encourage other security guards when they open a gate for my vehicle in the access control that they must not surrender to the harsh conditions and exploitation in the field of security and pursue their dreams as I did.