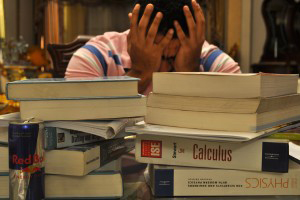 We acknowledge that given the current uncertain circumstances it may be difficult to manage your Unisa studies. Counselling support services are in place to assist you to navigate your journey with Unisa – the Directorate: Counselling and Career Development is here to support you to find a way to successfully manage your studies. We encourage you reach out and have discussions with us by e-mail, and where possible, by telephone.
Find self-help resources (available 24/7) on our website at http://www.unisa.ac.za/counselling. These resources are available as audio files and PDF downloads, and can be downloaded to your PC, phone or tablet.
Resources are available to:
Plan your career
Explore career fields
Prepare for job opportunities
Plan and manage your studies more effectively
Manage your personal development
Since it is now examination time, we would recommend that you listen to, or read about effective examination preparation strategies. You can access these resources on the DCCD website at https://www.unisa.ac.za/sites/myunisa/default/Learner-support-&-regions/Counselling-and-career-development/Manage-your-studies/Exams. In addition, you can watch an exam preparation presentation here: https://www.youtube.com/watch?v=fKLvU7DEekA&feature=youtu.be.
Unisa counsellors are available by e-mail. Send an e-mail to the Unisa centre closest to you to start with a discussion:
National e-mail address
Western Cape
Parow: cptcounselling@unisa.ac.za
Eastern Cape
East London: EL-counselling@unisa.ac.za
Mthatha: MTH-counselling@unisa.ac.za
Port Elizabeth: PE-counselling@unisa.ac.za
Midlands
Rustenburg, Bloemfontein, Kimberley, Potchefstroom, Kroonstad, and Mahikeng: midlandscounseling@unisa.ac.za
Gauteng
Vaal: dipalmp@unisa.ac.za
Ekurhuleni: makahfr@unisa.ac.za
Florida: mekoake@unisa.ac.za
Johannesburg: mabowmg@unisa.ac.za
Pretoria: tlhabem@unisa.ac.za
North Eastern
Polokwane: polokwane@unisa.ac.za
Middelburg: Middelburg@unisa.ac.za
Makhado: Makhado@unisa.ac.za
Mpumalanga: nkwansv@unisa.ac.za
Giyani: Giyani@unisa.ac.za
KwaZulu-Natal
Durban, Richards Bay, and Wild Coast: chettct@unisa.ac.za or thusibb@unisa.ac.za
Pietermaritzburg and Newcastle: mokoetg@unisa.ac.za
Further Covid-19 resources
* By Leza Deyzel, E-counsellor, Directorate Counselling and Career Development