Displaying the oratorical skills for which he is so famous, Thabo Mbeki, Unisa Chancellor and patron of the Thabo Mbeki African Leadership Institute (TMALI), engaged with students on the issue of China-Africa relations on 7 March 2019.
The event takes place twice a year and it is aimed at affording students a chance to interact with the former President of South Africa.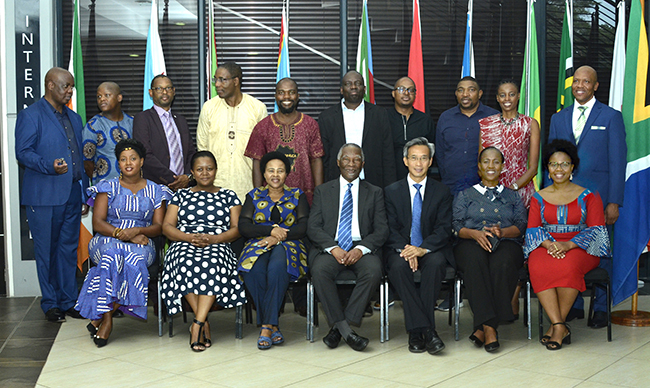 Guests at the event with, at front centre, Thabo Mbeki, Unisa Chancellor and TMALI patron, flanked by Prof. Zodwa Motsa, Director of the Department of Leadership and Transformation (left) and Lin Songtian, Chinese ambassador to South Africa (right)
The Chancellor said that although he supported cooperation between China and African states, he realises that there's a power imbalance between the two entities. 'We need strong enough institutions to ensure the implementation any agreements that are signed. The continent needs institutions such as the African Union to negotiate equitably.'
Mbeki said that negotiated agreements should reflect the interests of both sides. 'During negotiations, at times, the delegation from China might overpower the other parties,' he said.
Following this introduction, the Chancellor and, at times, Lin Songtian, the Chinese ambassador to South Africa, proceeded to answer a range of tough questions from students, dealing with, among others, disgruntlement about China-Africa relations, fear of going back to colonialism, the success of relations with the superpower, the programme of action and policies that are hard to implement.
Audience question: How do we ensure that the China-Africa relations are fair and balanced, and not another form of exploitation?
Ambassador Songtian: Both Africa and China are the victims of colonialism. China will never colonise another country. Colonialism is not in our DNA. We know each other through the book and message written by the colonialists.
China is not forcing South Africa to do anything, as it gives free will to do and not to do. We have production capacity in China. The common objectives of cooperation are durable peace and sustainable development. We want to sustain economic development through infrastructure development, education, financial assistance and human resource development. That's what we going to do in this continent.
Chancellor Mbeki: With reference the declaration made at the Beijing Forum on China-Africa Cooperation summit in September 2018, I recommend that all citizens of South Africa go through the relevant documents. There is a declaration which defines the relations, a plan of action and a speech by Chinese President Xi Jinping. The speech constitutes commitments China made to Africa. The declaration states what was agreed between the continent and China for three years. We therefore have a structured mechanism to govern the relations between China and Africa, and not implementing the signed agreement would be a dereliction of duty on our part. We must examine and analyse any agreement we conclude with any country.
Audience question: What is the role of young people in the globalisation you speaking about?
Chancellor Mbeki: Students with knowledge of policies and agreements should be activists and have capacity to intervene to avoid imbalances and unequal contracts.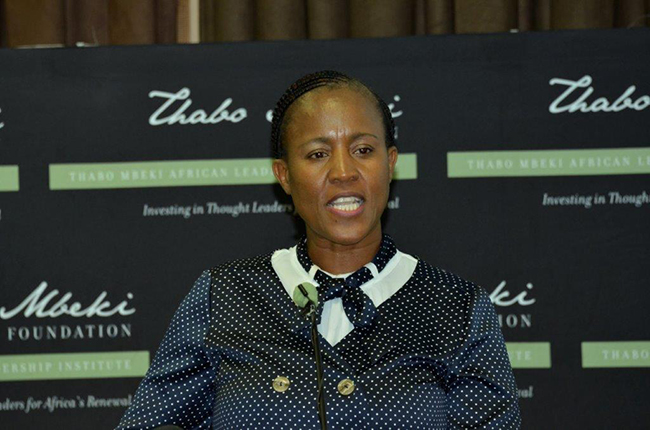 Programme director Dr Edith Phaswana (TMALI)
During the session, four TMALI alumni reflected on how the institute transformed their lives. In her presentation, Lebogang Chaka discussed the community work her in which her organisation, Afro Visionary Legacy, is involved in to make a difference in the lives of African women and girls.
* By Lesego Ravhudzulo (Department of Institutional Advancement)