Unisa's Advocacy and Resource Centre for Students with Disabilities (ARCSWiD) presented leadership training from 24 November 2018 to 29 March 2019, in support of students with disabilities in regional forums.
Following the 2018 Student Representative Council (SRC) elections, the regional forums for students with disabilities conducted theirs. As a matter of necessity, ARCSWiD designed training to ensure that there is full participation and equal opportunities for all Unisa student leaders.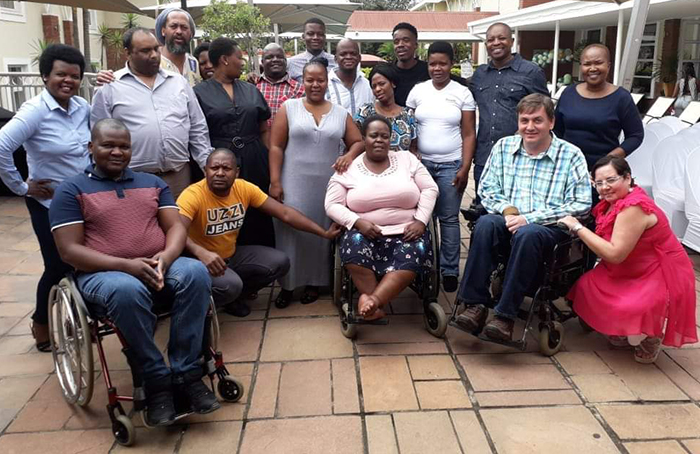 Dr Irene Mohasoa (Acting Deputy Director ARCSWiD) (back, right), Dr Sibusiso Chalufu (Acting Executive Director: Student Affairs and Regional Services) (back, second from right) and the ARCSWiD leadership training team
The training was a huge success and was presented at all Unisa's regional centres: Western Cape, KwaZulu-Natal, Polokwane, Mpumalanga, Eastern Cape, Midlands and Gauteng.
Dr Irene Mohasoa, ARCSWiD's Acting Director, gave advice on policies, values and ethics of student leadership within the university. She addressed academic failures in student leadership and principles of ethical leadership.
Presenting protocol, reporting writing and minute-taking tips was Thabo Ramasodi from the Office of the Dean of Students. He prepared students with disabilities for the world of work and showed them how to manage communication within an organisation.
In addition, Mogau Malatjie, also from the Office of the Dean of Students, urged students to register a structure to participate in SRC events and elections. Malatjie said student structures are a platform to interact with other student leaders.
Other presentations dealt with the SRC constitution and how the student governance structure is committed to democratic practices and decision making.
During training, the following objectives, which were later translated into outcomes, were identified:
Introducing student leaders to Unisa systems
Introducing student leaders to the institution's policies that govern students in general to give a broader perspective on the extent to which they affect students with disabilities
Empowering student leaders by introducing them to leadership traits, ethical behaviour and being responsible
Creating a conducive environment with a view to increasing peer participation, self-trust and trust in each other.
Three chairpersons from different regional forums for students with disabilities shared the impact of this training:
'The training was ground-breaking. I learnt a lot of things from the workshop that I was not aware of. We were able to interact with different types disabilities. We learnt how other disabled students cope in an open distance university. The ARCSWiD team motivated us to be better people and made us realise that our disabilities do not stand in the way of our achievements. We can still succeed regardless of our disabilities.'
- Zandisiwe Ncwane, BA Communication Science student and chairperson of the KwaZulu-Natal Regional Forum for Students with Disabilities
'The training empowered me with valuable information. I learnt more about the role of student forums at Unisa.'
Mzolisi Stoto, BA Honours Media Studies student and chairperson of the Western Cape Regional Forum for Students with Disabilities
'The training was superb. Our facilitator was strong and gave us a lot of information and discussed approaches to being a leader'
Zilindile Siqaza, BA Social Work student and chairperson of the Eastern Cape Region Forum for Students with Disabilities
In line with Unisa's vision to be the African university shaping futures in service of humanity, ARCSWiD leadership training broke down barriers.
Click here for more information on the range of services available from ARCSWiD.
* By Lesego Ravhudzulo, Journalist, Communication Directorate, Department of Institutional Advancement