ODeL is a different way of learning. There is a physical distance between you and your university. For most of us, this means that our previous learning experiences will not have prepared us for the Unisa study journey. In distance learning, YOU are responsible for your studies. You don't attend daily lectures. You learn from a distance and you connect to the university mostly via the internet.
What is it like to be an ODeL student?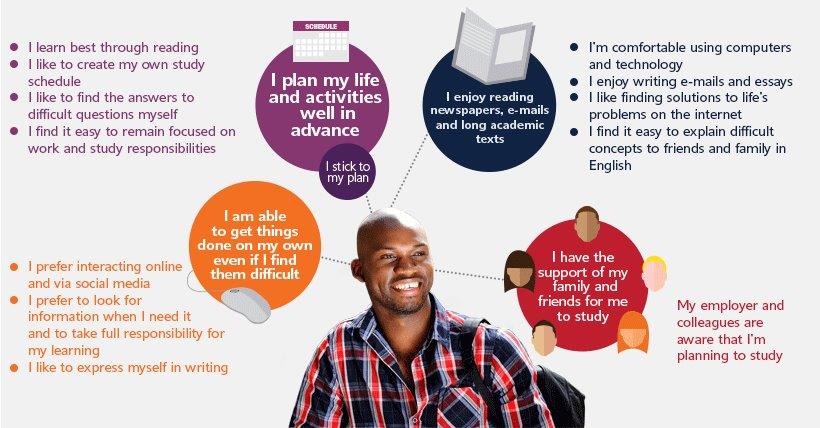 Step 1: How ready are you for Unisa (Student Readiness Tool)
Many of us don't know what it's really like to study through distance learning, because most of our schooling and post-school education was completed through contact or face-to-face learning. This tool has been designed to help you get started at Unisa. It consists of a series of questions in different formats (multiple choice, match the column and open-ended questions) followed by video feedback that is both informative and encouraging.
To help you understand what Unisa is about, please complete the Unisa Readiness Tool by clicking on the link below:
Step 2: Claiming myUnisa
myUnisa is a learning management system that allows students and lecturers to interact online, and also allows students and their peers to interact online.
If you have access to myUnisa, you are able to do things like:
access your study material online
participate in online discussion forums
submit assignments online
get online feedback on your assignments
communicate with e-tutors
update your biographical details online
get your examination timetable online
Click on the screencast to find out more about how you can claim myUnisa account:
Step 3: myLife email
Using the myLife student e-mail service is an important part of being a Unisa student. Unisa academic and administrative staff will only communicate with you using your myLife student e-mail not your personal email address. When you communicate with Unisa by e-mail, we would prefer you to use your official myLife student e-mail rather than other personal e-mail accounts.
Your myLife student e-mail address is your student number, followed by @mylife.unisa.ac.za.
To start using the myLife student e-mail, you must already have claimed your Unisa login. It can take one to two days for your myLife student e-mail to become active after you have claimed your myUnisa account.
After you have claimed your Unisa login, click on the screencast below to find out more about accessing myLife student e-mail.
Step 4: Progression rules
These academic progression rules are applicable to all undergraduate Unisa students, irrespective of when you commenced with your undergraduate studies at Unisa.
For your first year of study, you will need to pass at least 36 credits per year/over 2 consecutive semesters.
Click here for full access to Unisa progression rules.