Distance learning requires that you study in your own time and in your own space, but that doesn't mean you're on your own. Unisa provides various facilities and services to cater for its diverse student population.
Step 1: Tuition support
Tuition support provides enabling environment for students to gain access to support services that will make it possible for students to success in their studies.
Understanding the difference between module sites and e-tutor group sites. Modules sites on myUnisa are made up of:
Module Code – Year – Semester
Click on the screencast below to find out more about the user interface indicating how myUnisa is structured and how to tell the difference between a module site and an e-tutor group site.
Modules for which there are e-tutors also have an e-tutor site. For more information on how to access e-tutors click here.
Step 2: Counselling
Counselling and Career Development supports students before, during and after their Unisa studies. The following services are offered:
Career
Academic and
Personal guidance and
Counselling to prospective and registered students.
For more information about Unisa Counselling and Career Development click here.
Time management
The first step in managing your time effectively is to plan ahead and to set specific objectives in terms of your long and short term planning.
Long-term planning
The basic objective of long-term planning is to gain an overview of the academic activities over the whole year and to make sure that you keep track of all important dates, such as:
submitting assignments
preparing for group discussions
preparing for examinations
writing examinations
ensuring that you meet all your commitments on time.
How should you execute long-term planning?
Set long-term objectives:
Get a year planner or a diary
Mark all the important dates on your calendar (refer to your study guides and tutorial letters)
These are your long-term objectives. You should now plan more specifically in preparation for the examinations.
Preparation for examinations
Your main objective is to pass the examination in a specific subject. The 60:30:10 principle can be applied here. Look at some basic guidelines to help you reach your goals:
Use 60% of your time on general preparation to complete and submit all the assignments to enable you to give your full attention to studying.
Use 30% of your time, for intensive study, and to grasp the basic concepts included in the course content.
Use 10% of your time for exam preparation:
answering questions;
going over exam papers from previous years; and
discussing questions with other students and your lecturers.
The benefits of long-term planning
By consulting your year planner, you can clearly see the following:
Provision has been made for each day of your academic schedule.
You will know what type of activity and which subject you will spend time on each day.
You can regularly refer to your year planner to check your progress. This should really motivate you.
You will not have to worry about the future because you have planned your time so that you can meet all your commitments. Knowing that you've done this will give you more peace of mind, which is important in keeping you motivated.
Short-term planning
Short-term planning is something you do weekly and daily. To do this you should work out how much study time you have at your disposal. You need to draft a master schedule which you can use as a basis for weekly and daily planning.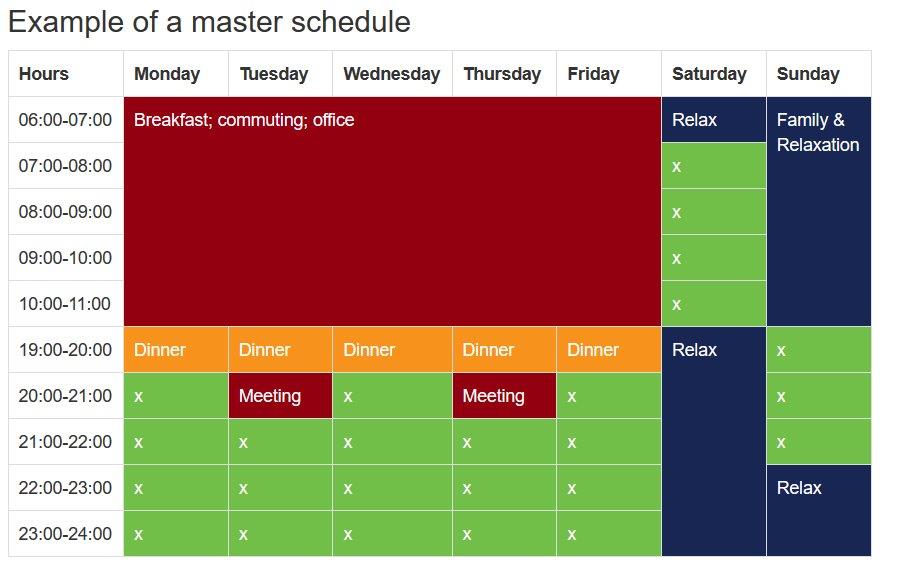 For more information on Time Management click here.
More useful sites: