First-year experience at Unisa
ODeL is a different way of learning. There is a physical distance between you and your university. For most of us, this means that our previous learning experiences will not have prepared us for the Unisa study journey. In distance learning, YOU are responsible for your studies. You don't attend daily lectures. You learn from a distance and you connect to the university mostly via the internet.

Your study material
Your study material will consist of written content, whether on paper or online, instead of listening to a teacher or lecturer in a classroom. In some instances, Unisa provides access to computers and the internet at our regional offices and other partner organisations, but we suggest that you have your own computer and access to the internet if at all possible - it will just make your studies so much easier.
Your study world
The best way to cope with distance learning is to take full responsibility for your own learning experience and environment. Your study world will be the environment you create - a room at home, a desk somewhere at work and, of course, the connections you make and the virtual networks you develop.
Your time
You will also need to remind your friends, family and work colleagues that your studies demand a lot from you, because they will probably forget that you are studying and make demands on your time.
What is it like to be an ODeL student?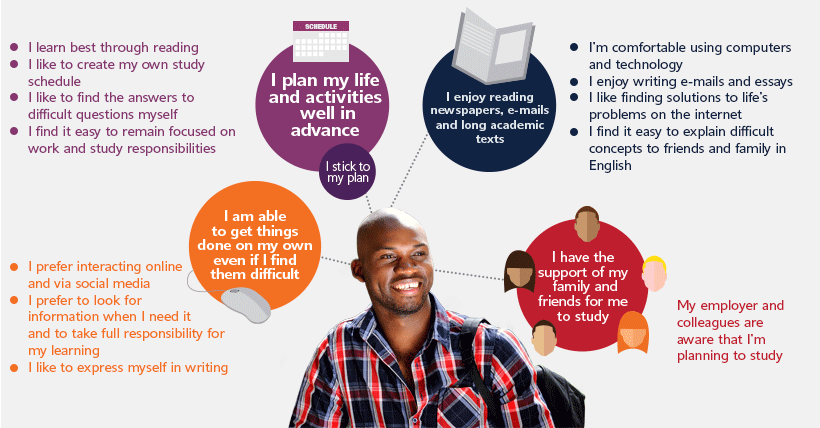 See what it takes to be a Unisa student
Take a look at the journey that some of our successful students have experienced to get a realistic idea of what it takes to be a Unisa student. Click
Last modified: Tue Sep 07 11:45:03 SAST 2021