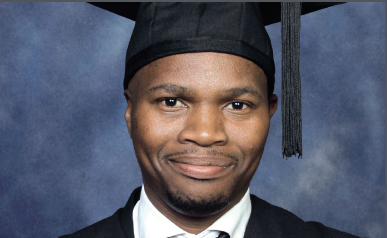 While others might be content to do what is expected of them and no more, Luyanda Ndeya is not.
This Chartered Accountant has been going above and beyond for so many years that doing more than required just comes naturally. When he was an undergraduate accounting and auditing student at the then University of Port Elizabeth, Luyanda not only read his own university's study material, but also that of his peers at Wits, the University of Cape Town and the University of Johannesburg. Not satisfied with that, he would then write his own exams and those written at the other universities.
"In whatever I am doing, I like to benchmark myself against the best," says Luyanda. "That's the person I am. I am hungry for knowledge."
He carried on benchmarking himself in the same way when he moved to Gauteng and did his Certificate in the Theory of Accounting (CTA) through Unisa. Then, almost 10 years after qualifying as a Chartered Accountant, Luyanda enrolled for his MBA at the UNISA Graduate School of Business Leadership.
Time had not dampened his enthusiasm for going the extra mile. Yet again, he submerged himself fully in his studies and, true to form, did not confine himself to the SBL's material. "I checked the MBA ratings and followed the best schools to see what they were doing, and used their study material." Again, he was benchmarking himself.
"If I had an assignment, I tackled it like a real-life problem and did really extensive research," says Luyanda, whose MBA dissertation topic was on strategic management processes of small and medium chartered accountancy firms.
This was a topic of great relevance to him personally, and to the country more broadly. Luyanda is Managing Director of his own accounting consultancy, Intergritas, and has his heart set on growing his business into a sizeable player. "In the next five years, I see myself participating as a medium-sized consultancy and in 10 years, as a bigger one."
He is already hard at work striving to achieve those goals, using the knowledge and insights gained on the MBA programme, which he completed at the end of 2017 and for which he was named Best MBA student.
"My MBA has definitely made a difference," he says. "I can now do things I couldn't do before, such as craft a strategy or business plan for clients. And I am a good board member. When I go to board meetings, I can make an input whatever the topic of discussion is, whether company strategy, HR, finances or operations. I'm a sort of a generalist now."