Lucas Mamabolo, Unisa's Student Representative Council (SRC) National Postgraduate Officer, was presented with a research award presented by the office of the Vice-Principal: Research Postgraduate Studies, Innovation and Commercialisation through the Directorate of Innovation, Technology Transfer & Commercialisation (DITTC).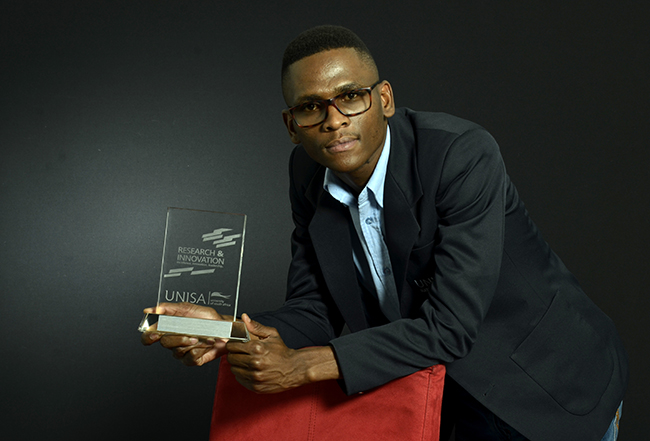 DITTC runs an annual Unisa Student Research and Innovation Showcase where students are invited to submit research papers for consideration. The best papers are invited for presentation during the showcase event which takes place in August/September of each year and the winners in each category are announced at the student award ceremony which takes place on the last day of the showcase event.
Nṱangananedzeni Muanalo, Innovation Support Project Manager in the Directorate of Innovation, Technology Transfer and Commercialisation, explains: "Students submitted their abstracts in various disciplines reviewed by discipline-specific reviewers. Mamabolo submitted an abstract under honours and undergraduate Social Sciences category after presenting to a rigorous panel review. He became number one under the top five."
"The research papers are reviewed and judged on four criteria: scientific merit (50%), originality (20%), potential application (15%) and quality of the submission (15%)," adds Muanalo.
"The winners, which are drawn from research papers presentations participate in the Unisa International Exchange Programme where groups of students visit and learn about various institutions around the world," she says.
Mamabolo was part of the university's student delegation travelling to the University of Campinas (UniCamp) from 26 October to 02 November 2019, as part of the inaugural immersion week of the Global Partners Programme. This programme provides students with an opportunity to attend classes on various aspects of innovation, entrepreneurship and the visit of the UniCamp Innovation ecosystem critical components where Mamabolo had an opportunity to present and talk about his innovative ideas at one of the largest technology exhibitions in Brazil.
myUnisa caught up with Lucas Mamabolo to find out more about his achievement.
How does it feel to be an award winner?
Winning the award was one of the greatest moments of my academic journey and made me realise that I can achieve more in the research fraternity. It was a proud moment for my family and those who kept encouraging me since I began my studies with the university. Personally, it is a step ahead towards the bigger picture. The saying that "each of us has a potential for growth" is a natural discourse and it can only find expression if we keep exploring our potential through opportunities presented to us. The reality, in most cases, is that family backgrounds and material circumstances hold us back from reaching out to our "potential self"; however, they do not guarantee what our lives would look like in future.
What is the most important thing you have learned as an award winner?
The importance of research is to impact situations in our communities through developing solutions deriving from within our social-cultural, economic, technological and political environment. In South Africa, particularly, we have much to explore and quantify, especially for academics in the humanities and social sciences professions. The knowledge gap has resulted in society losing a sense of identity, and this amounts to social problems we are currently facing as a country.
In the same way, getting recognition for contributing knowledge in a certain area validates the fact that your project addresses the societal concerns facing communities (e.g. gender-based violence, mental health, crime) through employing relevant research methods. Hence, it would be naive of us to develop projects that do not in any way speak to the challenges we are encountering in our neighbourhoods.
There is also a need for us to be leaders in our own disciplines – to be Afrocentric in our approach to addressing the issues we face rather than adopting imposed knowledge systems, to be relevant in society.
What were your impressions of visiting Brazil?
There is much to benefit from being exposed to the challenges different countries experience in relation to your project and the solutions they adopt in addressing such problems. It was indeed an exciting and eye-opening opportunity to meet partners of our university, such as UniCamp. Apart from presenting our projects, what is necessary to mention is the way technology is utilised to solve societal problems and influence economic growth. Whether you are in the social sciences, humanities, or science and engineering, the institution embraces and appreciates innovation in addressing the challenges facing the country. There are sponsors who invest in contextual-based research and are more than willing to support ideas or projects that have the potential to address concerns in our country.
What can we expect in the future from Lucas Mamabolo?
The end goal is becoming an author and taking up every opportunity to influence talks about the attitudes we attach in our interactions with females, and conversely, the attitudes females attach in their interactions with male.
In 2020, Unisa is mandated to provide an opportunity for master's students to publish at least one article. As a candidate this would be a first step towards building my career as a researcher. This opportunity is a prospect that validates our traditional knowledge systems, allowing us to become active participants in Afrocentric research, which is now lacking expression in accredited journals.
*By Lesego Ravhudzulo, Journalist, Department of Institutional Advancement