News & Events
The Thabo Mbeki African Leadership Institute (TMALI) has learnt with sadness of the passing of Ambassador Dumisani Kumalo who served as the first CEO of the Thabo Mbeki Foundation.
Ambassador Kumalo played a pivotal role in the establishment and operationalization of TMALI along with Dr Maureen Tong (former head of TMALI). His boundless energy, willingness to share knowledge, experience in building institutions and wisdom laid the foundation for the Institute to grow.
In 2015, TMALI co-hosted the TOYIN FALOLA conference where Ambassador Kumalo was honoured with The Thabo Mbeki Award for Leadership which is awarded to an African who has distinguished him/herself in the public or private sector. The recipient of the award must be an individual of a high calibre with unblemished record of public service or in the private sector. The awardee must be someone who is committed to the project of African Renaissance and African Unity. Ambassador Kumalo was committed to the ideals of Africa' renaissance and worked tirelessly towards realising them.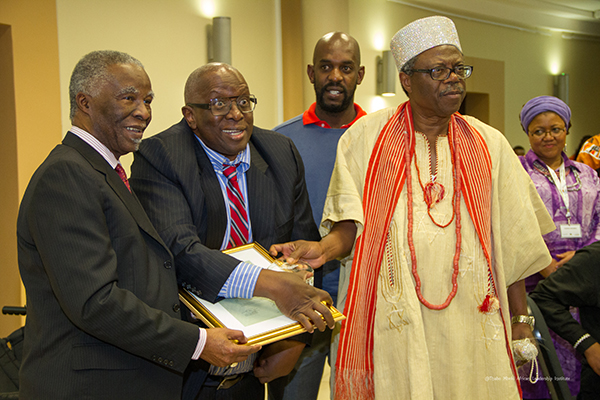 Ambassador Dumisani Kumalo was a retired journalist and diplomat. He started working as a journalist in the mid-1960s as a reporter for the Golden City Post and then the World newspapers and Drum Magazine.
In April 1999 then President Nelson Mandela appointed him as South Africa's Ambassador to the United Nations. At the UN, Ambassador Kumalo chaired the Non-Aligned Movement Committee, coordinated the Bureau and the Africa Group and was later elected as Africa Vice-President of the UN General Assembly. In 2007, President Thabo Mbeki appointed him as South Africa's Representative to the UN Security Council.
We at the Thabo Mbeki African Leadership Institute extend our condolences to the family and friends.
* Issued by the Thabo Mbeki African Leadership Institute