Thabo Mbeki African Leadership Institute
Profile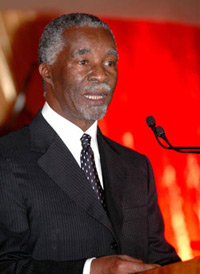 Dr Thabo Mbeki is a thought leader who remains close to visible leadership. His profile as an intellectual, policy shaper and mediator has been built over a lifetime. He is an avid reader who dabbles in poetry, his speech 'I am an Africa' being one example of his use of poetry to deliver a very strong message. He was born in Idutywa, Transkei, in June 1942. He sat for matriculation examinations at St John's High School, Umtata in 1959. He spent his early years in exile studying in Britain. There he completed British 'A' level examinations (1960 and 1961) and obtained Master of Economics degree at the University of Sussex in 1966. In recognition of his contribution to society, Dr Mbeki has received honorary degrees from South African and foreign universities, awards from various organisations, orders and decorations from local public and private institutions alike. UNISA awarded him an honorary doctorate in 1996.
Dr Mbeki has served the ANC in various capacities. He joined the African National Congress Youth League (ANCYL) in 1956. He was elected Secretary of the African Students Association in 1961 went into exile in 1962. While in England, he headed the London ANC Youth Section and mobilised the international student community against apartheid. In the 1980s he led ANC delegations to meet with Afrikaner leaders in the United Kingdom, leading to secret talks from 1988 which culminated in the negotiations for a democratic South Africa that took place under the auspices of the Convention for a Democratic South Africa – CODESA. He served as the second President of post-apartheid South Africa from 14 June 1999 to 24 September 2008.
While in government, Dr Mbeki made serious strides in ensuring that women's empowerment and gender equality took centre stage in democratic South Africa. He also helped steer the longest economic growth period in the history of South Africa since the Second World War. Amongst other initiatives, he actively participated in the transformation of the Organisation of African Unity (OAU) to the African Union (AU) and conceptualizing the New Partnership for Africa's Development (NEPAD), a vision and strategic framework for Africa's renewal. Dr Mbeki attracted the bulk of Africa's Foreign Direct Investment (FDI) and made South Africa the focal point of African growth. He also oversaw the successful building of economic bridges to BRIC (Brazil, Russia, India and China) nations with the eventual formation of the India-Brazil-South Africa (IBSA) Dialogue Forum to 'further political consultation and co-ordination as well as strengthening sectoral co-operation, and economic relations.'
Dr Mbeki mediated in complex conflicts on the African continent, including Burundi, Democratic Republic of Congo (DRC), the Ivory Coast, and some important peace agreements, like in Zimbabwe. Soon after leaving government, the AU asked him to chair the AU High Level Panel on Darfur (AUDP) to investigate how best to expedite peace, justice and reconciliation in Darfur, Sudan. The AUDP submitted its report to the AU Peace and Security Council Heads of State Summit in Abuja, Nigeria early in November 2009. The report was unanimously adopted and has been hailed as one of the AU's historic interventions in conflict resolution on the African continent. The AUPD was replaced by the African Union High Level Implementation Panel for Sudan, chaired by Dr Mbeki. Its mandate was extended for another year to assist the people of Sudan in the implementation of the 2005 Comprehensive Peace Agreement (CPA) and the democratisation of Sudan.
Dr Mbeki is Patron of the Thabo Mbeki African Leadership Institute (TMALI), a partnership between the Thabo Mbeki Foundation and Unisa. He is married to Mrs. Zanele Mbeki.
---
Mbeki Letters: Thought Leadership Series
Last modified: 2019/11/29