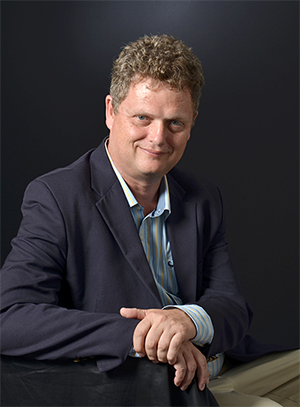 Creating a friendly virtual space for master's and doctoral students is one of the top priorities of Professor Hugo Lotriet, newly appointed director of the School of Interdisciplinary Research and Graduate Studies (SIRGS) under the College of Graduate Studies (CGS).
He says the fourth Industrial Revolution has dawned, bringing with it emerging technologies that are transforming the way people live and work. "The young generation is comfortable in using technology and in order to produce the best, we need to create competent technologies," Lotriet says.
An example is the new computer system being developed as a virtual research home for study and research collaborations. The system will host essential student support resources and serve as a collaboration platform for graduate students and supervisors.
Lotriet is well qualified to oversee such developments. He is a National Research Foundation (NRF) C2-rated researcher in Information Systems and a qualified civil engineer. He worked as a consulting engineer at numerous companies in South Africa and the United Kingdom before joining academia in December 2000.
He started his academic career as a lecturer in the Department of Informatics at the University of Pretoria. In April 2011, he joined Unisa as a professor in Information Systems at the School of Computing. He was later appointed as head of Research and Graduate Studies in the College of Science, Engineering and Technology, where his position entailed administrative support for all postgraduate students in the college.
Vision of a student-centric approach
Aligning SIRGS with the institutional vision of the African university shaping futures in the service of humanity, Lotriet looks forward to contributing to producing high-quality master's and doctoral students who will become thought leaders and acquire skills that will impact on society. His aspiration is that Unisa will stand out and become the first preferred institution in Africa when it comes to postgraduate studies, and that this will result in significant contribution by the university to high-quality research.
For Unisa to become an African and international researchers' partner of choice, the quality and depth of support to postgraduate students is paramount. The SIRGS team, supervisors, and all other stakeholders involved in advancing the course of knowledge production must always consider a student-centric approach, he says.
"We are fulfilling an extremely important need in terms of making tertiary education accessible to all," Lotriet says, adding that Unisa's 145 years of existence underlines the value a university like Unisa brings.
"Unisa being the biggest role player in higher education in South Africa puts an incredible responsibility on SIRGS to be good caretakers of graduate studies."
*By Mpho Moloele