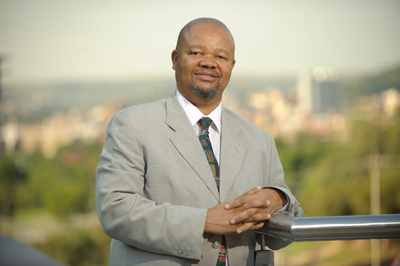 Principal and Vice-Chancellor of Unisa Prof Mandla Makhanya is no stranger when it comes to wearing multiple hats at any given time. He has proven that a leader can do a great deal, and do it well, now more so as he sets out to tackle his new role as Head of the International Higher Education Teaching and Learning Association (HETL), an association of educators, by educators, for educators. We were lucky enough to get some time in his busy schedule to chat to him about his role, vision and plans.
How do you feel about being the head of HETL?
Vice-Chancellor: I have spent the greater part of my working life in higher education, more specifically in open distance and e-learning (ODeL). More latterly, since 2008, I was a Pro-Vice-Chancellor and then Principal and Vice-Chancellor since 2011. It has to be noted that, particularly since 2011, I have not only been the Vice-Chancellor of the University of South Africa, one of the world's largest formal, quality-assured ODL providers, but also the immediate past President of the International Council for Distance Education (ICDE). During that time I have watched with great interest, and experienced first-hand, the fundamental, transformational impact on distance education of the relentless march of technology and the incessant demands for access to quality education from all corners of the globe.
It continues to be my view that as global higher education practitioners we have not yet been able to strike the optimal balance between leveraging appropriately the benefits of technology, and ensuring that we simultaneously ensure that quality teaching and learning remains at the core of what we do. Perhaps it might be true to suggest that in our keenness to answer the demand for access to education we have tended to focus on quick fix technological solutions without paying our attention to detail of its espoused potential. Our adoption and adaptation of technology should be handled within the context of the intellectual reservoir that has the power and the capacity to shape teaching and learning in manifest ways.
HETL, as an international association of educators, by educators, for education, offers a very simple, yet powerful platform for this purpose. HETL fills a critical role in a global higher education environment that shows scant evidence of common purpose or practice. Its impact since its establishment in 2010 has been remarkable and true to its vision, and it is for this reason that I am deeply honoured and humbled to be the Head of HETL.
HETL fulfills its vision of advancing the scholarship and practice of teaching and learning by focusing its mission on four core areas: 1) global networking and interdisciplinary collaboration; 2) research, innovation and academic publishing; 3) higher education development and capacity building; 4) human rights and social justice. How are you planning to add value to these areas and others?
Vice-Chancellor: Experience in my own institution and my ongoing analysis of the global environment have convinced me that there are few places in the world that currently enjoy the socio-economic and political stability and wealth of resources to meet their strategic undertakings. Growing demand for access cannot and will not be met by a growth in facilities or in teaching staff. In fact, we are witnessing a decline in both. When it comes to teaching staff, not only are numbers declining, but fewer and fewer are entering the profession and fewer still have the increasingly scarce luxury of tenure. Pressures on teaching staff are enormous and universities become, perhaps overly, corporatised in line with perception that they can and should be run as businesses and that money and not pedagogy is the bottom line. Chasing onerous research and publishing targets and pushing innovation to generate additional income on top of teaching loads is not only demotivating academics, but is manifesting in increasing instance of depression, demotivation, anxiety and even suicide amongst teaching staff, who feel undervalued and professionally dismissed. I doubt that the academe has been under greater pressure. On top of that we have a global environment in which socio-economic and political contexts are directing and sharing not only the funding on universities and students, but also what is taught, how it is taught and by whom it is taught. Social justice has become a rallying cry across the world, not only as an underpinning of access, but also as a means of breaking knowledge and other entrenched hegemonic practices.
So, we find that we are assailed from all quarters and possibly the only viable means of achieving some semblance of security in terms of higher education development and capacity building, is to leverage on shared resources and capacities. My institution certainly has the infrastructure, strategic import and global reach to serve as a sounding board for possible collaborations and other forms of sharing and capacity building and I look forward to sharing my views with the other members and to working together with them on shared needs and areas of strength. We will however need to start from ground zero if we are to be successful and if we are to ensure win-win- outcomes. Social justice demands will simply no longer tolerate a resumption of old practices. The time has come to think innovatively and transformatively about a very uncertain future, in which we must nevertheless lay foundations that will ultimately enable us all to prosper into the future. Given our struggle for freedom and our very brief history of democracy, South Africans have learnt to think fearlessly and outside of the box and to listen when others do the same. This is something which I believe would be of significant value in the current context.
HETL is an association of educators, by educators, for educators. Why are you thinking that an association of this nature is so important?
Vice-Chancellor: As I have already mentioned, I am of the view that we need to put teaching and learning back at the centre of education. Who is better to lead that charge than the educators themselves? In the current higher education environment, the notion and characterisation of education has become so varied and multitudinous that it genuinely means anything to anybody. The more traditional understanding and practice of the "three Rs" seem to have got lost in the technological quagmire of potential and some really amazing and innovative work being done by wonderfully professional pedagogues is certainly not receiving the attention that it deserves. HETL provides a platform for this work and for research that should and must be shared with our global peers. The work is tremendously exciting, not to mention prolific, and covers an impressive array of topics and fields. HETL is a contemporary, legitimate and authentic voice for voice for 21st teaching and learning.
What are you looking for as priorities?
Vice-Chancellor: My priorities would be consonant with the vision and four core areas of HETL, which I have already touched on. However, two thoughts occupy much of my time: first, how do we gather, collate, and disseminate all of the wonderful research being done by HETL so that it enjoys maximum benefit and impact, and how do we ensure that we don't end up being yet another association whose influence is apparent only to its members? Second, how in the current global state of flux, will we remain abreast of global trends so that we ensure our continued relevance and value? Both of these are key to our value and success as an association.
What are some of the challenges that you think you are likely to experience and how do you plan to handle them?
Vice-Chancellor: Time is the ever present enemy that steals enthusiasm and progress. In the current environment we all have and will continue to have tremendous demands made on our time. In such an environment it is all too easy to lose focus and impetus. So I would say the only real challenge that I foresee is that of a commitment to making time to fulfill our commitments and drive our agenda.
Having stepped down as President of the ICDE, please share some of the highlights of your leadership in this organisation.
VC: It was an immense privilege for me to have served as the President of the ICDE. I was so fortunate to have shared meetings and conversations with so many colleagues for whom I have the utmost respect. I learned a great deal but I would also like to believe that I contributed in equal measure. Possibly one of my greatest sense of achievements is that all of the trends that I identified and shared with the members in my many addresses have realised, and have become key strategic items on the ICDE agenda. As I stepped down, I did so with a great sense of security knowing and having experienced first-hand the relentless hard work of the committee and the pursuit of its many projects.
Final thoughts?
Vice-Chancellor: Ironically as the global village grows smaller, it is not cohering. In the current environment it is more riven with divisions and discord than ever before. It is fragmenting. The future is bleak and opaque. The once secure higher education bastions of the developed North are being impacted on by waves of migrations and funding challenges that will change the shape and future of education in those regions in the near future, and growing social inequalities are compounding and beginning to reflect the same stark inequalities of those in the South. Social justice, I believe, will feature centrally for some time to come.
On a more positive note, at the same time, and almost unnoticed, we are beginning to see some really solid, quality research on the real benefits of technology in education. These are being produced by highly reputable bodies that have vast resources at their disposal. We should take note of these and add them to our own. No institution has the luxury of entering willy-nilly into costly projects that offer little by way of grounded research. It is out there and we need to make use of it in the best interests of financial stewardship and ethical governance.
Perhaps it's appropriate for me to end with a thought on leadership in higher education. We are entering uncharted territory—for which most are not prepared. Agility, adaptability, resilience, open-mindedness, and people skills are paramount. Ethics and cooperative governance are likely to gain increasing traction, which suggest the acquisition of skills that encompass a staggering array. Leadership going into the future will be unenviable task and it will require men and women of mettle and resilience to succeed.
*Interview by Kirosha Naicker