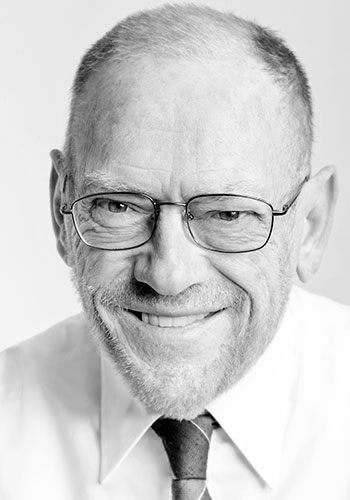 Prof Marinus Wiechers, who retired as Unisa's Principal and Vice-Chancellor in 1997, passed away on Friday, 31 August.
Higher education was always Prof Marinus Wiechers' first choice and first love. He shared this during a Unisa interview shortly before retiring as Principal and Vice-Chancellor in 1997.
When Wiechers began at Unisa 1960, shortly after obtaining his BA and LLB degrees at the University of Pretoria, he set in motion the makings of an illustrious career that would span nearly 38 years and that would take him from the position of lecturer in the Faculty of Law to Vice-Chancellor and Principal of one of the mega universities in the world.
In 1965 he was appointed to the Chair of Constitutional and Public International Law at Unisa – a position which he held until the end of 1993. During his academic career he was Head of the Department of Constitutional and International Law for a total of 21 years.
He served as Director of the Institute for Foreign and Comparative Law for three years and acted as external examiner to the Universities of Witwatersrand, Cape Town, Fort Hare, Zululand, Pretoria and Stellenbosch, and the former Natal (University of KwaZulu-Natal), RAU (University of Johannesburg), Durban-Westville (University of KwaZulu-Natal), Bophuthatswana (University of North-West) universities. In addition he acted as supervisor for 31 successful doctoral students and 19 master's degree students and taught part time at the University of Pretoria, RAU (University of Johannesburg), as well as Universite Rene Descartes and Ecole des Hautes Etudes Internationales in France.
Apart from his national and international academic pursuits, Wiechers was also active in the legal and political arena. As an Advocate of the Supreme Court of South Africa he was the legal representative of the South African Government in the SWA/Namibia cases before the World Court; served as legal adviser to various commissions, co-drafted the Namibian Constitution and was a member of the Technical Committee for Constitutional Affairs which was responsible for the drafting of the South African interim Constitution.
During his last year at Unisa, Wiechers looked at his term as one of reform, of steering the university through unchartered seas to a new destination - one of achievement, prosperity and a rightful place in the new South Africa. Notwithstanding the trials and tribulations, Wiechers felt that Unisa was a tremendously healthy and strong institution at the time of his retirement in 1997.
"I feel confident that Unisa is poising itself once again to enhance its reputation as the world's leading distance education university. Unisa has the strength, the capacity and the know-how to respond to the challenges of the new century. Unisa has the potential to reshape tertiary education not only in our country but further afield as well," he said during one of his last interviews.
Since retiring, Wiechers has served as an assessor to the Land Claims Court, wrote legal opinions and articles, and participated in South African and overseas conferences. His main preoccupation was to pursue an active art career and in that capacity, he held a number of successful exhibitions showing paintings, etchings and drawings and also acted as vice-chairman of the Arts Association Pretoria.
1997 Q & A with Prof Marinus Wiechers still relevant for Unisa today
Click here to read the full interview as it appeared in Unisa News (October – December 1997 Vol 24 No. 4)
Q: When you were appointed Principal in 1994, the general feeling was that you were the right person to take Unisa through these times of transition. Looking back, were the people right
A: I was keenly aware that my term of office would be a time of transition during which Unisa would have to absorb the enormous changes in our external surroundings and transform to adapt them. Reform, transformation and democratisation – these were the issues that inspired me to take up the position as Principal and to take part in this decisive period in Unisa's history. Seen in this light, I think I was the right person for the job. It has always been the unknown and sometimes troublesome times that inspire me.
Q: You are firstly an academic who scored several achievements in your career. Did you not miss academia

Were you still involved in the academy

A: Yes, I definitely missed the daily involvement in teaching and research, but I did try to keep up. In the past years I supervised three doctoral candidates, helping them to reach their highest academic distinctions, I have written several academic articles, and sometimes given legal opinions.
Q: What were the highlights of your time as Principal at the largest university in the southern hemisphere
A: All the developments that would in time lead to the establishment of Unisa as a leading world university in the field of distance education were highlights. The reform of our distance education functions, our 50thfestival year, student support and the development of the Sunnyside campus and the new Western Cape campus, the democratising of our internal management structures and the foundation of COLISA were all highlights.There were some low points too. I would have liked to see Unisa break free from the old mould of a conventional university to become a totally modem and open distance education university. I believe there are still too many forces that would like to see Unisa continue as it always has in the past.
Q: What does the future hold for Unisa
A: There is no doubt in my mind that Unisa has all the qualities needed to remain one of the world leaders in distance education. But this will demand that many of us give up our self-absorption, mediocre efforts and smug complacency in favour of more guts, drive and hard work.
Q: You have been quoted in the media as saying that the university's constitution is 'ramshackle'. What did you mean by that
A: The current (1959) constitution is a relic of the past, full of holes and containing clumsy changes. What Unisa needs is a real constitution that reflects its values, ideals and identity and gives a legal grounding to the democratisation process.
Q: There is increasing pressure from Unisa's students that the Council should be structured differently.
A: I feel very positive about such a restructuring of the Council. The broad guidelines for the composition of a university council will be included in the new general law on universities. Our Council will have to comply.
Q: As Unisa is a distance education institution, does it really need an SRC
A: Students must be represented in the new structures of the university. I am all for student representation and a National SRC, but then it must flow from a fully democratic election process.
Q: Why did you decide to retire at the end of this year even though your term of office only ends next year
A: l am just practising my right to retire at the age of 60. There are many personal reasons for my retirement. But as far as Unisa is concerned, it is my belief that a transitional figure in times of enormous changes which is how I see myself – should not cling too tightly to the post of Principal because transformation requires change and renewal.
Q: Any advice for your successor
A: I should advise my successor to be open and broad-minded, to be mindful of renewal and to refrain from excessive management which could impede the running of the university.
Q: Do you have a message for the students
A: Our students now have a better chance than ever before to obtain a measure of excellence in their studies. Being a student at Unisa is an exciting challenge and a personal task, and nobody should be deprived of knowledge by being fed half-truths, inadequate information and provided with poor course material.
Q: What are you going to do now
A: My immediate reaction is to say that I'm going to do nothing. I will probably try to take up all my hobbies again. Before making serious plans, I would first like to enjoy a true sabbatical for a year of quiet study. Perhaps I will accept a visiting lectureship somewhere. But in the long run I hope to still be involved in South African higher education, which has always been my first choice and love.
* Article by Rivonia Naidu-Hoffmeester