Two Unisa academics, Professor Extraordinairius Anthony Reddie and Emeritus Professor Alan Weinberg, recently received coveted National Research Foundation A-ratings based on the high quality of their research outputs. This is Weinberg's second A-rating after he initially received the accolade in 2010, the first scholar to have done so in Unisa's College of Human Sciences. They join Professor Extraordinairius David Glasser, who was awarded an A-rating last year.
The annual NRF Awards recognises and celebrates South African research excellence. 'The A-ratings of these researchers demonstrate unequivocal recognition by their peers as leading international scholars in their respective fields, for the high quality and impact of their recent research outputs' the NRF said in a statement. 'Acquiring an NRF rating generates considerable acknowledgement and respect for the individual researchers as well as their institutions.'
Of all the universities in South Africa, Unisa is the one that has most consistently helped to nurture black liberation theology, says United Kingdom-based Professor Extraordinairius Anthony Reddie, one of only three A-rated researchers on Unisa's books.
'Unisa supports Black Theology, the only black theology journal that exists, and has been important in the field of black theology because of the number of very promising scholars who have come out of the university or been associated with it,' says Reddie.
Black theologians from South Africa whom he encountered while still an undergraduate theology student at Birmingham University in the 1980s included Professor Itumeleng Mosala (who later became president of AZAPO) and Professor Barney Pityana (who later became Principal and Vice-Chancellor of Unisa).
'Barney talked to us about the freedom movement and sparked my interest in in how one could think of the Christian faith as a contributor to black liberation theology,' says Reddie, who proceeded to delve deeply into the discipline, completing his doctorate at the end of the 1990s.
Close connection with Unisa
His connection with South Africa and Unisa became more direct from 2004 onwards. Reddie visited South Africa on a three-month sabbatical in 2004 and returned several more times in the ensuing years, all the while strengthening his ties with Unisa and its black theological tradition.
'Then, about three years ago, I had a conversation with Prof Rothney Tshaka (now Director of the School of Humanities at Unisa), who nominated me for an extraordinary professorship in theological ethics,' he says. 'I was awarded that distinction on 1 April 2015.'
His academic home is the Department of Philosophy, Practical and Systematic Theology in the College of Human Sciences, where Reddie is also a research fellow.
'As an independent scholar, which I have been for most of my academic career, the link with Unisa gives me an institutional affiliation. When I publish, I do so under the auspices of Unisa, which gets the credit for the work I do.' It was also under the auspices of Unisa that Reddie applied in 2017 for an NRF rating.
A2 demonstrates international standing
Reddie's first application earned him a coveted A2 rating on the strength of his international standing and experience. He has published and given lectures all over the world, including in Australia, the Caribbean, Europe, Ghana, Latin America, South Africa and the United States.
Most recently, in May 2018, he was invited to speak in Mexico City at the Council for World Mission Walls and Borders conferences. The event looked at how Christian Mission can break down walls and borders and was organised to show solidarity with Mexico in response to rhetoric from the United States on its planned border wall.
Reddie, who has not visited South Africa since 2009, will be in the country towards the end of September 2018 to attend the NRF's presentation ceremony for A-rated scholars.
'Receiving an A rating in a discipline that is a bit unfashionable at the moment is a source of enormous pride for me,' he says. 'In some respects, black theology is a relatively marginalised discipline. I have heard it described in the United Kingdom and United States as out of date or irrelevant, so receiving an A rating in black theology is all the more meaningful. It is recognition from my peers that the work I have done matters. That is why I write.'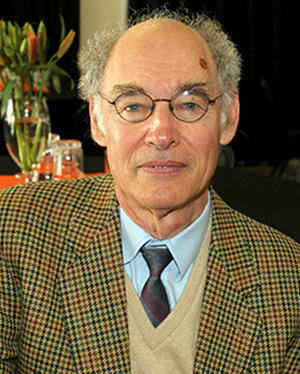 Emeritus Professor Alan Weinberg – Research consultant to Unisa Press
Prof Alan Weinberg is an Emeritus Professor at Unisa and is currently contracted to the Research Directorate and to Unisa Press to assist with research and publication initiatives. He was a lecturer in the Department of English Studies (starting in1970) at the university, and held the position of full professor from 1996.
Drawn to Romantic studies, he obtained his master's on the poetry of Samuel Taylor Coleridge and completed his PhD on English Romantic poet Percy Bysshe Shelley's Italian experience. His thesis was published in 1991 by MacMillan, London, after his work was described as 'truly excellent' by one of America's most distinguished Shelleyans, the late Professor Stuart Sperry of the University of Indiana.
Subversive verse
Weinberg has since committed himself to a thorough study of Shelley's work including ideology, subversion and textual scholarship. He describes his objective as 'alerting the literary community to the exceptional diversity, pertinence and cultural significance of Shelley's writing and to the underestimation of crucial areas of his work.'
Weinberg was commissioned to research two groups of original Shelley manuscripts at the Bodleian Library at Oxford. The result was the publication of Volume 22 (Part 1 and 2) of the Bodleian Shelley Manuscripts, which included transcripts of Shelley's A Philosophical View of Reform with substantial introductions and commentary contextualising the work. This work was described variously by reviewers as an 'expertly produced collection' and 'meticulous and accurate [in] detail', culminating in his nomination for the Bill Venter and Chancellor's Prize in 1998.
Bringing marginalised texts to the fore
Weinberg also collaborated with leading UK scholar, Timothy Webb of the University of Bristol on a collection of essays on unfamiliar aspects of Shelley's writing in an effort to correct the marginalisation of many of the poet's significant works. Entitled The Unfamiliar Shelley (Ashgate, 2009), the work garnered favourable reviews. He is currently working on a second volume with Timothy Webb, focusing on a wider representation of European scholars, and a further group of marginalised or neglected texts. Weinberg has a record of many articles and essays on Shelley and has a strong international profile.
Weinberg has served on the NRF Panel for Literature, Language and Linguistics from 2005, chairing it in 2007. He has also served on the Unisa Press Senate Committee as literary and cultural representative. He has been an active member of the Keats-Shelley Society in the USA and Italy, the North American Society for the Study of Romanticism and the Associazione Professionisti Italiani.
Weinberg co-convened the 'International Bicentenary Shelley Conference' in 1992, and the '3rd Wole Soyinka International Conference' in 2005, both hosted in the Department of English, Unisa. He was awarded a special Chancellor's Prize at Unisa in 2011, in honour of his first NRF A-rating.