Nelson Mandela International Day is an annual international day in honour of Nelson Mandela, celebrated each year on 18 July, Mandela's birthday. Individuals and organisations across the globe take part in this day by doing something good for at least 67 minutes. At Unisa, however, the institution is careful not to supplant reflection on Mandela's legacy and values by narrowly focusing on the 67 minutes of volunteering and acts of kindness.
Unisa is a fully engaged university strongly rooted in its mission to support national development and social justice. The university, in partnership with communities, makes valuable contributions to deepen the legacy of Nelson Mandela and produce a society that is just, caring and transformed. Through its community engagement (CE) projects, Unisa is not limited to celebrating just one day or 67 minutes for Mandela Day; instead it is invested in a continuous drive to live up to the ideals, legacy and values to which Madiba aspired.
Community engagement is at the heart of the social function of the higher education sector. Dr Genevieve James, Deputy Director of Community Engagement at Unisa, explains: "While we have an appointed day to cooperatively honour the life and sacrifice of Nelson Mandela through volunteerism and acts of charity, at Unisa, we understand that development, particularly in an age of Covid-19, requires more than acts of compassion on a specified day, but sustained intellectual effort in collaboration with external communities. For this reason, each year Unisa's colleges address societal challenges by channelling their skills, knowledge and experience into transformative networks for social change, and engaged scholarship." James adds: "Through our robust CE networks and collaborations, we act together with participating communities to infuse the liberating and life-giving principles and practices of social justice."
This Nelson Mandela Day takes place in the context of a global pandemic. With the devastation of the economy, strain on an already weak health-care system, a colossal rise in unemployment, food insecurity, chronic poverty and gender violence, among other critical social issues, this day reinforces the need for universities to strengthen their commitment to working with communities to solve local, national and international development challenges that have now been exacerbated by Covid-19.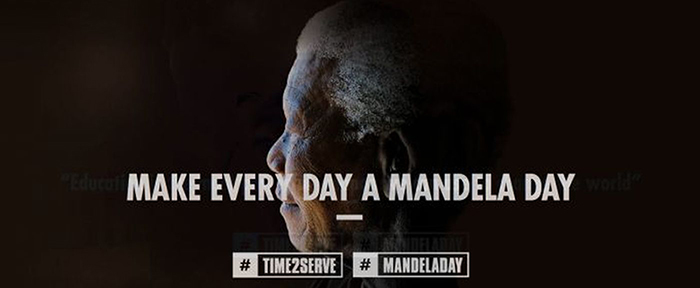 The purpose of community engagement at Unisa
When universities connect with society in a meaningful manner, the results can be significant for society and the academy. Quality university-community relationships are a prerequisite for mutual learning, problem identification, ideation and the testing of creative solutions for contextual problems. James explains that given the grim development challenges of our context, intensified by the ravages of Covid-19, it is necessary that the knowledge, skill and thinking ability of higher education institutions become liberated for solving critical, and even seemingly intractable social challenges.
"At Unisa, CE is more than a requirement of the South African Higher Education Act; it is an indispensable academic method breaking the barriers between society and the academy, liberating the consciousness and rousing action towards the sustained progress of communities and the enhancement of scholarship," explains James. Over the past years there has been a sustained focus on engaged scholarship as a tool for the revitalisation and transformation of the curriculum towards greater social and contextual relevance.
James further elaborates that "when we authentically engage with the African context, our scholarship (teaching, learning and research) will reflect contextual realities. Engaged scholarship also leads to improved democracy through the formation of civically engaged citizens, inside and outside the academy. This form of scholarship is highly advantageous to Unisa as it leads to increased social capital and new allies for teaching, learning and research collaboration," she says.

Community engagement during the Covid-19 pandemic
Covid-19 has in many ways torpedoed face-to-face operations. However, all is not lost. "There are things we are gaining in the fire of the pandemic," says James. She further explains that within the context of Covid-19, key opportunities exist for Unisa's CE work to address community, municipal, provincial, national, continental and international needs. Around the world there is a Covid-19-induced acceleration towards digital approaches. James explains that through the alignment of CE efforts with the university's business model, the use of ICT and a range of education technologies, Unisa seeks, among other goals, to
widen access to its CE products
increase the width or scope of access
increase the total number of different people, households, communities, organisations and institutions reached
Unisa's CE projects are currently exploring ways to effectively respond through ICT to key challenges faced by communities. While some projects have been placed on hold, others have found innovative ways to remain in touch with their community stakeholders and continue with their project operations:
The College of Human Sciences is running a project for the advocacy for HIV, social diversity and human rights in communities, workplaces and post-school institutions towards building national social cohesion. This is a collaborative project between various internal and external stakeholders.
The College of Accounting Sciences is running a Polokwane Rural Schools, Winning Schools Project, which is producing Maths, English and Accounting video tutorials.
The College of Economic and Management Sciences is running the Sisonke: Act of Love–CV building for the unemployed, Sisonke: Elementary Negotiation workshops, and the Sisonke: Hospice, where the college assisted in drafting a Covid-19 policy for this registered and certified quarantine venue.
The College of Education is running a Together Making Schools Better project where they have redirected their CE funds to the Libangeni Circuit Catch up programme relevant for FET teachers to support the continuation of teaching and learning and assisting them to prepare FET learners on identified learning areas to be ready for the coming trial examination.
While challenges in the work of CE at Unisa exist in the current impediments to the implementation of planned 2020 deliverables of CE projects, amidst the conditions of the Covid-19 lockdown, physical distancing protocols, and the risk of exposure to a highly contagious virus, Unisa is striving to use the acceleration towards digital approaches to remain true to its mission of being the university shaping futures in the service of humanity even during the pandemic.
* By Tshimangadzo Mphaphuli, Senior Journalist, Department of Institutional Advancement