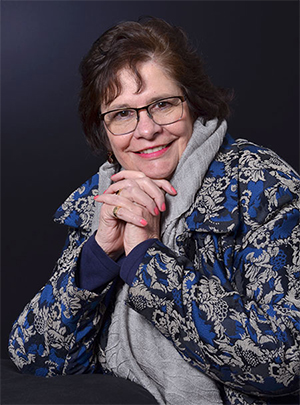 "A solid foundation has been established for the for the College of Graduate Studies (CGS), and we need to build on this for postgraduate studies and providing research leadership. So there is much to do," said recently appointed Executive Dean, Prof Michele Havenga. She chatted to us about her plans for the college and how she will be meeting some of the critical challenges.
Havenga enjoys both research and postgraduate supervision which is what the CGS is all about, and she hopes to be able to make a difference in this space. "In this sense the appointment is exciting, at the same time it is somewhat daunting," she said. "However I am surrounded by many expert colleagues in the academic and administrative sectors of the college and just have to remind myself that elephants are best eaten in small bites," Havenga added.
As a college, the CGS is research driven and student-centred. "We need to attract and develop top researchers to fulfil the mandate of providing leading research, and try to ensure that our researchers have the time, access to funding, and opportunities required for their work, and to facilitate procedures that will assist them. Institutes and other research entities must live up to their mandate to be leaders in knowledge production and shaping thought in their respective fields both within Unisa and beyond. The training of postgraduate, especially master's and doctoral, students remains a priority. Now that the basic structures, policies and procedures are in place, we need to focus on issues of quality in supervision and research," Havenga urged.
She explained that considerable effort has already, in a joint project with Unisa ICT and other stakeholders, gone into the establishment of a virtual research collaboration hub (platform) housed in the CGS and supported by a platform administrator to provide a supportive environment for postgraduate students and other researchers, to create communities of science and practice, facilitate peer review, establish networks for funding possibilities and to provide specialised research support. "To see the different facets of this platform/portal/hub fully functional and used optimally by Unisa researchers is a dream," she said with a smile.
Havenga has only been in office for a short time now but does envision some challenges ahead. However, with a strong and dynamic team beside her, she is confident they will meet these challenges. "The administration of honours degrees and postgraduate diplomas has recently also transferred to the CGS so that the college now provides administrative support for all postgraduate qualifications. The students in the honours programmes are very important as the graduates are our potential master's and ultimately doctoral candidates. I have always felt that the honours students as a cohort are rather neglected at Unisa and will, in collaboration with the Teaching and Learning Portfolio, pay specific attention to this group. At the same time the work will continue with regard to master's and doctoral studies where the focus will be specifically on quality in supervision and student service and support," she said.
Havenga is most looking forward to working with the leadership of various colleges and, in particular, the Offices of Graduate Studies and Research as they strive to improve all aspects of postgraduate studies at Unisa. "I think we can make a contribution here, not only in providing an enriching and enjoyable postgraduate student experience, but also with our response to the call for knowledge production in areas that are of particular relevance in our national and African context. Over the next few years, the emphasis will be on quality issues and postgraduate student support. I also hope to establish a line of communication with the SRC so that the student voice can be considered in our planning."
Unisa has been shaping futures in the service of humanity for over 143 years. Havenga has every intention of executing her role in such a way that it fits right in with the institutions mandate. "Our social mandate is to be open (to the degree possible) and inclusive. Unisa has over the 142 yeas of its existence provided opportunities to many who were marginalised and/or would otherwise not have had access to tertiary education. This approach is part of what attracted me to Unisa 31 years ago when I left private practice to join the Department of Mercantile Law. But there is no reason why Unisa, with all its available expertise and the excellent facilities and support programmes, shouldn't, based on the quality of its programmes, be, or become, the institution of choice for postgraduate students. I strongly support capacity development programmes like the 'Grow Your Own Timber Project' and the CGS annual summer school that provide opportunities for postgraduate students to become part of communities of scholars and to be exposed to different approaches and ideas," Havenga said.
Right now Unisa is all about helping students 'Define Tomorrow'. Havenga's thoughts on that are simple: "Our student body is the reason for our existence as a tertiary institution and also represents the future of our country. That is why it is so important to listen to the students' views, frustrations and aspirations and to create a culture of mutual respect for each other. Tomorrow can only be defined in our particular context and the college's continued participation and leadership in African perspectives on knowledge production is therefore vital."
A few ways in which Havenga plans to help Unisa 'Define Tomorrow' is by finding new approaches to and ways to support postgraduate studies, removing isolation from the postgraduate study experience and encouraging relevant research that has a positive impact on our society.
*By Kirosha Naicker
Save
Save
Save