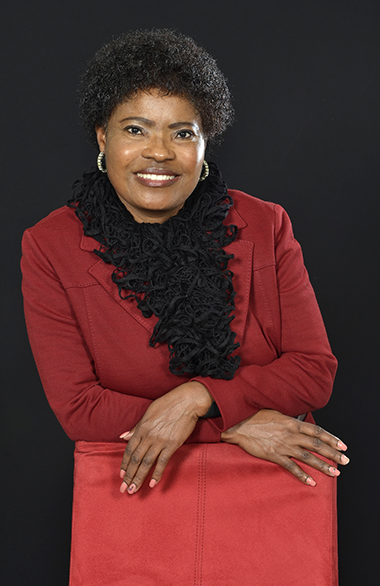 The inaugural lecture of Prof Mmankoko Ziphorah Ramorola, Department of Science and Technology Education, titled Transforming teaching and learning through technology integration, took place on 3 May 2018.
Ramorola said she had come up with this topic since it was of great concern to her that after 23 years of democracy most South African schools were still struggling to integrate technology effectively into teaching and learning. "The idea of technology integration in teaching and learning is at the centre because education in the 21st century is undergoing some radical changes that have been brought by the exploitation of information and communication technologies (ICTs)," she pointed out.
"I argue that the integration of technology in teaching and learning is moving with a slow pace and most countries, including South Africa, are failing in this regard. Teachers in the developing world are confronted by ways of engaging and educating students who are gadget toting and plugged-in."
There continued to be a serious challenge of the pedagogical gap that exists between the digital natives and the digital immigrants. "In my opinion," she said, "this remains a burning issue. For this reason, the provocative question could be how will digital immigrants meet the learning needs of the digital natives? There is a need to present the new lens to the pedagogy to transform teaching and learning in the 21st century."
According to Ramorola, her inaugural lecture further signalled the milestones she had accomplished for years in pursuit of knowledge since the inception of her academic journey, which can be traced back to the birth of the Digital Doorway projects in South Africa since 2002. She concluded the lecture with her contribution to the field of Educational Technology.
You can read the inaugural lecture in full here.
The person behind the professor
The best part of radio? And the worst part of TV?
Radio is one of the media platforms used to transmit messages to different types of audience in the country. It could be regarded as best in the sense that it transmits news and other information as and when it happens. It has over time proved to be a media platform that reaches audience in their own languages and serves all equally, the elderly and youth; for example, the elderly are not disadvantaged by technological advancement to get information from radio. It is an education platform capable of selecting relevant themes to different audiences without transgressing their broadcasting rights.
Television as one of the mediums of communication has the best and the worst parts to it. It is one media platform, which has many at times embarrassed viewers by showing some horrendous pictures which should have not been shared unless viewers were warned before the viewing.
Sometimes the timing of certain programmes, like ones with sex scenes, is odd. These programmes should be screened when kids are asleep or there should be age restriction on them. This causes embarrassment to parents and is against the good morals of the society.
TV programmes are educative and help in changing bad behaviour but may as well ignite some bad behaviour as other people copy from movies and other crime-related scenes. Other programmes, though educative and sensitising communities to events around the country, leave damning scars in the lives of others, like witnessing a horrendous fatal accident involving family members on TV.
What can you simply not resist?
Technology is here to stay and it is forever evolving. I can't resist keeping abreast with the developments.
What do you most value in your friends?
I value their support.
What keeps you enthused about your career?
Acquisition of a broad knowledge of educational technologies.
Describe yourself as an academic leader in three words
Teacher, mentor, scholar
*By Sharon Farrell