News & Media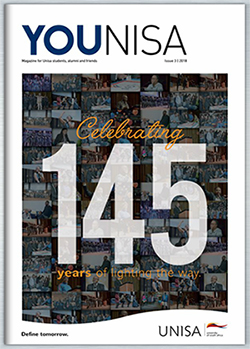 This year Unisa celebrates 145 proud years as a beacon of knowledge and inspiration on the African continent – as a leading light shaping futures, and being illuminated in turn by its students and alumni, its partners and the worldwide community it serves.
In this special issue of YOUNISA we deviate from our regular format to celebrate this anniversary in words and images.
We bring you highlights coverage of the 4th of July anniversary event, and take a look at the university's fascinating journey over the past 145 years.
We asked our readers to weigh in on how Unisa has been a guiding beacon in their lives. We were blown away by the response, and would have loved publishing each and every heartfelt testimony. Sadly, we had the unenviable task of choosing, from the hundreds of submissions, the 20 most inspiring student stories, and the 20 best alumni testimonies.
As much as this issue is a celebration of Unisa@145, it also serves to salute our students and alumni,who, in the words of Unisa Chancellor Thabo Mbeki, will be the architects of what is currently only an imagined future.
Publish date: 2018-09-06 00:00:00.0