The Indlulamithi South Africa Scenarios 2030 project led by Unisa's Dr Somadoda Fikeni, Director of VC Projects and Advisor to the Principal, continues to make great strides analysing a divided society. It seeks to answer the question: What would a socially cohesive country look like and to what degree is it attainable by 2030?

Advocating social cohesion
"For the last few years it became clear that South Africa was sliding into serious economic, political and social challenges, yet the country and mainstream media remained focused on daily sensational headlines without having a serious discourse or reflections on possible future trajectories," says Fikeni.
"The preamble of our national constitution of 1996 outlines the desired state of SA and these are captured in a form of social cohesion as the central question this scenario exercise is trying to answer. The year is informed by the fact that the National Development Plan as well as the United Nations Sustainable Development Goals have used 2030 as their goal to achieve the programmes they outlined."
According to Fikeni, "Indlulamithi is meant to highlight the key drivers of our society and how they will affect the current and emerging future trajectory. Inequality has been identified as the single most important key driver and in our economic modelling several policy interventions that can help to narrow the inequality gap range from quality education, macro, and micro economic policies as well as a range of social and trade policies. Each one of the scenarios reveal how inequality will impact on our country as well as the perceptions and attitudes of people towards inequality."

Not an ivory tower university but an involved university
In response to how this national initiative will add value on the university's strategic objectives and vision, Fikeni says: "Unisa is part of the broader society. If there is a societal crisis it will also affect the well-being of the university and the ability to achieve its strategic goals." He adds: "Through this impactful academic citizenship, my work lives up to Unisa's vision statement of being the African university shaping futures in the service of humanity."
He says that the fact that the Indlulamithi SA Scenarios 2030 findings have now been embraced by the South African government, business sector and civil society to a point where some, such as the Gauteng government, are using it to craft their long-term strategies is a testimony to this impact. "This is one of several ways to demonstrate that Unisa's academics are indeed helping to shape the future in the service of humanity. It also removes any notion of an ivory tower university as this is a demonstration of an involved university."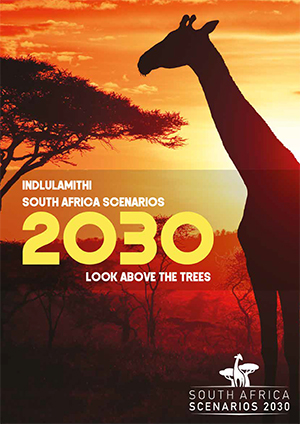 However, Fikeni strikes an urgent caveat: "All our three scenarios, even the most positive one, suggest that our deep structural and systemic problems, now compounded by the effects of Covid-19, will not be able to achieve social cohesion, even if there is notable progress in this direction."
Moreover, Fikeni strongly believes that a multi-stakeholder social compact on socio-economic path or blueprint to address these challenges is the most important step that can take the country out of its current challenges. "We have done comparative analysis of various countries that were faced with deep challenges or wanted to reposition themselves as developmental states, and in all cases it is indicated that drawing in all key stakeholders, such as political formation, labour, youth, business, and women, to agree on a social contract or a blueprint for their developmental goals is the most important step in creating a sense of common purpose and single destiny. Eradicating the legacy of colonialism and apartheid, as well as some policy failures in the post 1994 democratic dispensation, can be achieved through such a social contract."
* By Lesego Ravhudzulo, Journalist, Department of Institutional Advancement