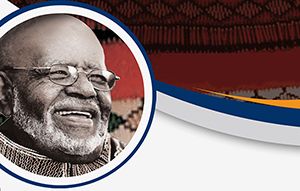 The 11th Unisa Es'kia Mphahlele memorial lecture was delivered virtually on 4 September 2020 by Dr Tshepo Madlingozi, Director of the Centre for Applied Legal Studies (CALS) at the University of the Witwatersrand, on the topic Decolonising 'decolonisation' with Es'kia Mphahlele.
In his welcome address, Prof Mandla Makhanya, Principal and Vice-Chancellor of Unisa, expressed his pleasure that in adapting to the new normal of doing things differently under the conditions of Covid-19, the university had not focused only on ensuring that the administrative and operations functions continued to operate. The academic project of the university, which is not just teaching and learning, but includes research and continuous reflection, was also taken care of. "The annual Es'kia Mphahlele Memorial Lecture is one of the major dialogues that is now well-established within the university. I am proud that our colleagues are hoisting the Mphahlele flag," he expressed.
Mphahlele was a writer, artist and activist, and was celebrated as the Father of African humanism and one of the founding figures of modern African literature. It is, therefore, important that his memory should be kept alive and that his scholarship is not ignored. Unisa has over the years done its part to sustain his scholarship, more especially, through this annual lecture at the university. Makhanya noted, however, that there was not enough being done broadly on his scholarship and that perhaps a more permanent idea on how to sustain the legacy of Mphahlele should be thought of. The VC then took time to reflect briefly on the scholarship of the giant that was Mphahlele. Outstanding from his reflection was how Mphahlele was indeed a known Africanist, some say an African humanist, who, while embracing modernity, would at the same time eschew its Eurocentric trappings and orientation.

A brief biography
Delivering the memorial lecture, Madlingozi reflected on Mphahlele's biography, how he overcame his first exile and his significance. He explained that Mphahlele was born in Marabastad, Pretoria. While his childhood was from a disadvantaged background, he grew to become a literary icon - an intellectual and political odyssey. "As a writer, Mphahlele brought his own experiences in and outside South Africa to bear on his short stories, fiction, autobiography, and history, developing the concept of African humanism," said Madlingozi. He explained further his experience under apartheid South Africa by highlighting Mphahlele's struggle to get an education, as well as setbacks experienced in his teaching career.
Madlingozi explained that after a year of teaching at Lesotho, Mphahlele came back to South Africa where he worked for Drum magazine. He held different positions, including political reporter and sub-editor; however, he felt he was a misfit in the organisation as his passion was primarily in teaching, and he continued to pursue other outlets for his literary talents.
Madlingozi narrated that Mphahlele responded to an appeal for teachers in Nigeria and in 1957 he left South Africa along with other African teachers whom the apartheid system considered unemployable. It was at this stage that the African National Congress (ANC) requested him to represent the organisation at the first Pan-African conference to be held on African soil and hosted by Ghana in 1959.
It was in West Africa that he began to blossom as a literary figure. Having broken out of the constraints of apartheid racism, he was able to rub shoulders with other African writers and intellectuals. He had a brief association with Ulli Beier, a German Africanist whose literary journal, Black Orpheus, made a great impact on African writers in the English language.

A need to decolonise
Madlingozi further told of how in 1977, Mphahlele and his wife, Rebecca, ended their 21 years of self-exile and returned to South Africa because he realised that the only durable way an alienated person could deal with the state of self-alienation was by returning to the source. Upon his return, Mphahlele began to put his effort into teaching, writing workshops and other conscientisation processes. "He cofounded black-people-only programmes, including the Pan-African Writers Association and the Council for Black Education and Research, which were explicitly inspired by the Black Consciousness movement," said Madlingozi. These programmes aimed to showcase and cultivate black self-reliance, self-pride and self-determination, and thus shift black people's consciousness beyond the poetics of bitterness and hatred of white people. "Mphahlele argued that the process of Africanising academic curricula needed to start at the school level, and that its main philosophical basis had to be 'Afrikan humanness'," he said.
"On the eve of South Africa's transitional period - in keynote addresses, speeches, book prefaces and introductions, and a monthly magazine column - he advanced the argument that the main aims of the political transition ought to be the forging of a conducive environment for the reassertion of Afrikan humanness and Afrikan becoming," Madlingozi said of Mphahlele, further observing that the use of the language of non-racialism and the hastiness surrounding 'the reconciliation project' constrained these objectives.
"Mphahlele warned that constitutional negotiations between black and white elites would result in a transition from white domination to white hegemony. Today, as the 'unassimilated majority' assert their demands from the underside of society with growing force, the limits of that transition are evident to all. But, as Mphahlele anticipated, a decolonial project focused on whiteness, or repeating colonial ideas of Africa and blackness, cannot enable a genuine return to 'the source'," Madlingozi asserted.
"Mphahlele's life and thoughts span the colonial, apartheid and post-apartheid eras. He showed that the problem of a colonial mentality could be surmounted only by a genuine, if painful, voyage into the self," concluded Madlingozi.
* By Tshimangadzo Mphaphuli, Senior Journalist, Department of Institutional Advancement