News & Media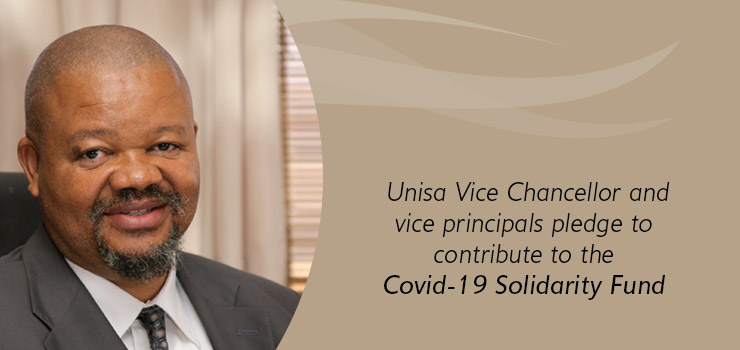 The Principal and Vice Chancellor of the University of South Africa (Unisa), Professor Mandla Makhanya and the university's vice principals have responded positively to calls by President Cyril Ramaphosa for South African businesses, organisations and individuals; as well as members of the international community to contribute financially to the Covid-19 Solidarity Fund (The Fund), established on 23 March 2020.
Professor Makhanya has volunteered to contribute a third of his monthly salary for the next three months. The vice principals have also pledged to make contributions to the Fund on an individual basis and as determined by each person.
The Management Committee has also reached out to members of its broader extended management and all staff and encouraged them to contribute to the Fund.
'As Unisa, we recognise that our country is at a definitive moment in its history and that it is incumbent upon all of us to support all national efforts to curb the spread and impact of the Covid-19 virus. This pledge to the Solidarity Fund is our humble contribution to this noble cause aimed at ameliorating the devastating impact of Covid-19 on the economy of our country and the livelihoods of our people, particularly the most vulnerable sections of the population', said Makhanya.