Unisa virtual race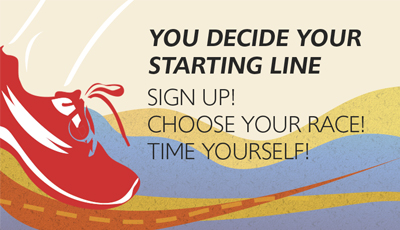 The Unisa Virtual Race is a virtual event that aims to unify its students, alumni, donors, staff and their family members and friends in these challenging times through a common goal of walking, running, cycling, aerobics, boot camp, gymnastics, chess and the Jerusalema Dance towards a virtual finish line.
You can participate during 2 November 2020 to 31 December 2020.
You can participate in your home, street, park, on a track or treadmill.
Sign up for the race, decide on the distance you want to complete as well as the activity you want to do. Time yourself.
Once you complete your race, submit your results by Clicking here.
Last modified: 2020/10/30