A new generation of researchers is making its presence felt at Unisa. Young, black and successful, they are setting the pace in conducting research with a positive impact on society and publishing their findings in accredited journals that the best scholars in their fields read.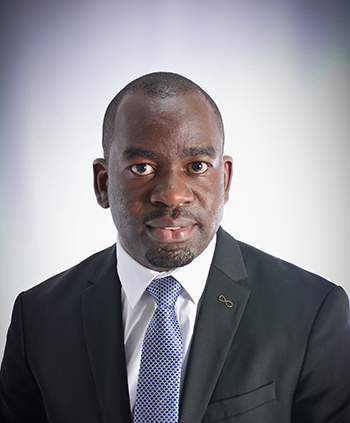 Digging deep to make biomass energy a reality
Comfortable in a laboratory filled with hi-tech chemical engineering equipment, Ralph Muvhiiwa is just as comfortable pushing a wheelbarrow and digging with picks and spades. If this is what has to be done to make biomass energy a reality, then so be it.
Many a weekend has been spent this way, and the results speak for themselves. The bio-digesters that Muvhiiwa and his fellow members of Engineers Without Borders at Unisa have been building work like a charm, converting cow dung into clean, affordable biogas for household cooking, heating and lighting.
Their first bio-digester was commissioned at the home of a Muldersdrift sweet-potato farmer in 2015, and another is up and running in the Lenasia area as part of a Unisa/ Medical Research Council project to showcase the benefits of clean fuels for use in energy-poor communities.
Engineer with a mission
It's well known that cow dung releases methane, a highly potent greenhouse gas. Instead of leaving this waste to emit methane into the atmosphere, it can be harnessed for household use and, in the process, be converted into CO2 2 superscript, which is about 24 times less harmful than methane.
"I aspire to be an engineer who can help solve problems that are important to society," says Muvhiiwa, a doctoral fellow in chemical engineering at Unisa's Material and Process Synthesis (MaPS) unit, where he specialises in renewable energy technologies, and in particular, biomass energy.
His passion for research and his drive for results has brought him a number of awards, among them Best Master's Student by Research for 2017 and Best Presentation Long Paper, Natural and Physical Sciences at the Unisa Students Research & Innovation Showcase 2014 and 2015.
Rising star
He has presented his research at several high-profile conferences, including the 24th International Conference on Chemical Thermodynamics in Guilin, China, in August 2016. At that conference, Muvhiiwa shared the podium with top scientists such as MaPS director Prof Diane Hildebrandt and Prof David Glasser (an A1-rated researcher).
He has also co-authored articles in highly rated journals such as the Journal of Thermal Analysis and Calorimetry, and, most recently, in the July 2017 edition of Energy, Sustainability and Society. He is a member of the Institute of Chemical Engineers, the American Institute of Chemical Engineers and the Golden Key International Honours Society.
When not in the laboratory or pushing a wheelbarrow, Muvhiiwa plays a mean game of hockey and golf and is hard to beat in a game of darts. He's clearly on target for great things.
Clear goals and focus are carving out a handy competitive edge
Discipline, focus and energy have taken Prof Cornelius Masuku from his hometown of Siyabuswa, Mpumalanga, to a cutting-edge laboratory in Pittsburgh, United States of America. These are traits he has honed both as a sportsman and as a scientist.
A keen sportsman, Masuku has his eye on the ball in soccer, volleyball and basketball, but karate is where he stands out head and shoulders. His prowess earned him a Wits Sports Council Bursary for Karate in 2003, back in the days when he was still an undergraduate student in Chemical Engineering.
He has come a long way since then and now finds himself at Carnegie Mellon University in Pittsburgh, Pennsylvania in the USA, courtesy of Unisa's Emerging Researcher Support Programme.
Focusing exclusively on research
"I applied for the programme because it is a great opportunity to enable researchers to focus on ground-breaking research that requires an extended period of concentration without the stress and burden of other academic duties," says Masuku, who has a PhD in Chemical Engineering and a BSc Honours in Computer Science.
Unisa has given him three years off from his usual duties as a senior lecturer and associate professor of Chemical Engineering at Unisa's MaPS unit, so that he can focus exclusively on his energy research.
His field is Deterministic Global Optimisation, which is a highly mathematical and computation-intensive area within clean and sustainable energy and fuel research.
Unexpected detours
Masuku started off his Emerging Researcher programme at the Texas A&M Energy Institute in 2015, working with Prof Christodoulos A Floudas, a world leader in developing deterministic global optimisation methods to solve non-convex optimisation problems.
Floudas passed away when Masuku was in his second year of research. He contacted Prof Ignacio E Grossmann, who was Floudas's PhD supervisor. "He agreed that I could come to Carnegie Mellon University to continue my project under his mentorship."
In addition to the support he receives as an Emerging Researcher, Masuku is on Unisa's Vision Keepers Support Programme and is a Thuthuka Grant Holder of the National Research Foundation (NRF).
Strong publication record
Masuku has already co-authored eight articles in highly rated international journals like Fuel Process Technology and Industrial Engineering Chemical Research, several of them with co-authors of the calibre of Prof Diane Hildebrandt, head of MaPS, and Professor David Glasser, A1-rated extraordinary professor.
He has also presented at various international conferences, including the ICFMC-2 in Singapore in 2012, where he was an invited speaker, and Bioresource Technology 2016 in Spain, where he delivered two poster presentations.
Many years of research lie ahead for Masuku, who is planning to apply for an NRF research rating. "For now I have applied to Thuthuka for the second three-year funding cycle beginning next year, 2018. I can only apply for a rating after the approval of my application, so I'm planning to apply for a rating in 2019."
Masuku's career objective is to apply computational intelligence to gain a competitive edge in the field of Fischer-Tropsch Synthesis, chemical engineering thermodynamic modelling, clean-fuels technologies, optimisation of existing processes, and the commercialisation of new processes.
With his energy, focus and discipline, that competitive edge is coming along nicely.
*By Clairwyn van der Merwe
Save