Unisa's College of Science, Engineering, and Technology (CSET) continues to provide solutions as it launches an I-SET mobile unit to inspire science, engineering and technology educators and learners. The handover ceremony and signing of the memorandum of understanding between Unisa and Sasol took place at the Unisa Science Campus in Florida on 7 September 2018.
In response to a shortage of skills in science, technology, engineering, and mathematics (STEM) in the country and the efforts to shape the futures of individuals, Unisa, through the Inspired towards Science, Engineering and Technology (I-SET) community engagement flagship project, submitted a proposal for a mobile robotics unit to the Sasol Foundation.
I-SET is a community engagement flagship project of CSET. The project aims to raise awareness of and curiosity about science, engineering and technology through fun robotics activities. It uses LEGO® MINDSTORMS® Education EV3 kits to build and program robots, thus introducing the fundamentals of engineering and the principles of programming. The I-SET mobile unit is a modified vehicle equipped with apparatus to conduct I-SET robotics workshops, and a laboratory to conduct physical science and chemistry experiments. Its vision is to equip and inspire educators and learners in STEM subjects.
The Mobile Science Laboratory programme was initiated by the Sasol Foundation and the Department of Science and Technology as part of a plan to use technology-based solutions to reach out to communities and to improve education delivery in schools. The mobile laboratory travels to schools in rural parts of the country and facilitates hands-on practical sessions for educators and learners in their classrooms. To date, the Sasol Foundation has donated mobile science laboratories to the Eastern Cape district of Cofimvaba, the Free State district of Fezile Dabi, the National Education Collaboration Trust (NECT), the South African Radio Astronomy Observatory (SARAO), and Sol Plaatje University.
During the handover ceremony, Sasol's Dr Rufus Wesi indicated that the project had started when he met Kabelo Pheeha, I-SET Science Engagement Officer, at a SAASTEC conference. Kabelo expressed a strong need to acquire one of the mobile units for the I-SET project at Unisa.
Sasol has recently awarded mobile laboratories to two organisations, namely Unisa and the Centre for the Advancement of Science and Mathematics Education (CASME), to increase the reach of its programme. CASME, which is based in Durban, will serve schools in rural parts of KwaZulu-Natal, while Unisa will mainly serve schools in Gauteng and neighbouring provinces. The two new mobile laboratories have brought the total number of these laboratories to nine and an estimated number of 27 000 learners can now be reached per year.
According to Patricia Gouws, I-SET project leader, the eight other mobile units sponsored by Sasol will also be revamped to include robotics kits in addition to the physical science and chemistry kits.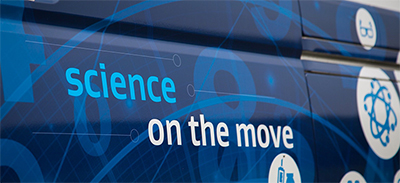 *By Thembeka Ntuli-Mpapama