South Africa has more solar energy per square metre than anywhere else except Arizona, and yet load-shedding and power interruptions are the order of the day. Unisa Professor Lukas Snyman and his students have patented a solar thermal energy system that goes further than existing systems in collecting, storing and harnessing the sun's rays for household heating. Self-sufficiency and significant savings for South African households are the likely benefits.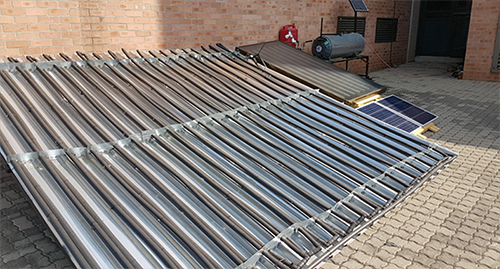 The invention, known as the Thermal Energy RoofTop system, is the brainchild of Snyman and his team from the Department of Electrical Engineering in the College of Science, Engineering, and Technology (CSET). It has successfully been through the SA patenting process, paving the way for commercialisation of a low-cost system that households could use to generate all their hot water for bathing, showering, cleaning and clothes washing, and even for cooling purposes.
Basically, the RoofTop invention employs physics, materials and electronics to utilise the full solar energy spectrum that shines down on South African rooftops, including energy that would usually go unused.
Catching all those rays
Most solar energy systems use the ultraviolet and visible region of the spectrum, which has the highest energy density. However, 50% to 60% of solar incident energy (the energy that actually reaches rooftops) lies in the so-called "long" wavelength or thermal energy wave region. This energy is largely unused by current silicon solar panels and is radiated back to the atmosphere each day, especially at night.
Instead of silicon, the Unisa RoofTop solution consists of a combination of standard household galvanised roof sheeting and a system of black polyethylene piping, together with a smart electronic control system that maximises the total solar energy absorption on household rooftops.
By fully harvesting the energy "budget" available from the sun, consumers can save or conserve millions of kilowatt hours each month.
The current RoofTop system prototype has a collection capacity of almost 10 kilowatt hours per day—even in winter time—working out at about 200 kilowatt hours a month. If the collection area is doubled from the current 4X4 metres to 8X8 metres, the user could easily save between R800 and R1 000 a month on Eskom electricity.
The potential cost savings are substantial. The Unisa team's latest research shows that, taking into account the initial capital outlay and a system lifetime of 10 years, the operation cost of the system comes in at about 12 cents per kilowatt hour. This compares to the R2 per kilowatt hour, excluding VAT, that consumers currently pay to Eskom.
The research team is currently developing further add-on systems that could save the consumer even more money per month.
Patent a key step in commercialisation
"For CSET, this (patent) is an important milestone that precedes commercialisation. Such an achievement underpins the importance of taking research out of the laboratories, scaling it up, and then realising its value by patenting," says Professor Bhekie Mamba, Executive Dean of the college.
In this case, the patent document itself, as well as the surrounding control electronics, can serve as the main intellectual property value of the invention in future. The intention in future, according to Snyman, is to grant licensing selectively to suitable venture capitalists and SMEs in South Africa. If large numbers of users and businesses were to utilise the technology in future, Unisa as the patent holder could generate substantial third-stream income.
Big ideas have power.
The Directorate of Innovation and Technology Transfer (DITT) at Unisa plays a key role in the patenting process and, more broadly, in building a portfolio of Unisa technologies that can add value to society, says its director, Ayanda Noma. "With proper guidance and development, some of our technologies can contribute towards alleviating the socio-economic challenges our country faces."
When it comes to commercialising Unisa innovations, Noma says the university is looking at three main pathways:
Outright commercialisation in terms of start-up formation or licensing. This could see Unisa opening up the portfolio to staff and students who may wish to use some of the technologies to create companies.
Attracting large innovation grants from the Technology Innovation Agency (TIA), the Industrial Development Corporation (IDC), and other funders to develop the technologies for specific applications. This will also greatly facilitate commercialisation of the technologies.
Collaborations with specific companies for further development of technologies for specific applications
Says Noma: "We have started transferring practical skills to staff and students around building viable enterprises to exploit some of the technologies. Furthermore, we have added the business tools to our suite of offerings to ensure that we capacitate our staff and students to actively create companies to exploit some of the IP that we have."
Other important, ongoing initiatives that facilitate innovation and commercialisation among Unisa staff are the Unisa Innovation Support Programme (ISP–Evergreen Pre-Seed Fund) and the TIA Seed Fund.
For proof of the value of these programmes, look no further than Professor Lukas Snyman and his Thermal Energy RoofTop solution. Snyman was one of the 2016 winners of ISP grant funding and has also received seed funding from TIA.
Big ideas have power.
*Submitted by Thembeka Ntuli-Mpapama