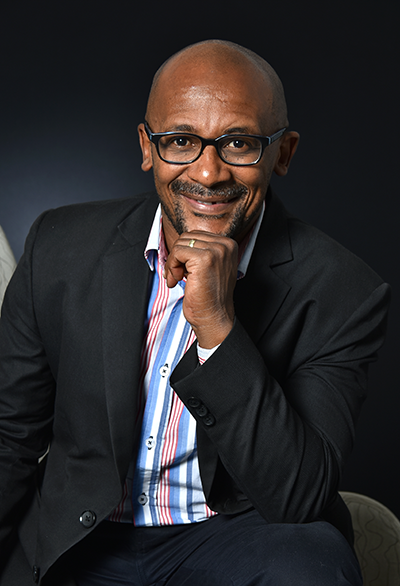 Bhekisipho Twala is currently the Director of the School of Engineering in the College of Science, Engineering, and Technology (CSET) and a professor in Artificial Intelligence and Data Science, where he has been since October 2017. From 2015 to 2017, he served as the Director for Intelligence Systems at the University of Johannesburg. From 2008 to 2014, he served as a Professor for Artificial Intelligence, and eventually the Chair for the Department of Electrical and Electronic Engineering.
He received a BA from the University of Swaziland in 1992 and an MSc from Southampton University. He received his PhD in Machine Learning and Statistical Science from the Open University of Milton Keynes in 2005. From 2005 to 2007 he worked as a post-doctoral researcher at Brunel University in the UK, and then as a Principal Research Scientist at the CSIR in Pretoria (South Africa).
His research interests span both big data analytics and signal and image processing. Much of his work has been on improving the understanding, design, and performance classifier systems, mainly through the application of data mining, statistics, and performance evaluation. In the signal and image processing arena, he has worked on extracting, manipulating, and storing information embedded in complex signals and images. As of 2018, Google Scholar reports over 900 citations to his work.
He has given numerous invited talks and tutorials and is a founder of and consultant to companies involved in Big Data Analytics and Smart Cities. Twala is a co-author of Nonlinear filtering (CRC Press, 2017) and is the author of over 150 papers on artificial intelligence and data science. He is a professional scientist, a senior member of the IEEE and holds other professional memberships such as ACM, IAENG, IFAC, RSS and SACAC.
What factors influenced you to join Unisa and CSET?
I committed myself as a Statistics major my Freshman year of college. I spent my energies in college preparing myself to become a world-class data scientist. But it wasn't until my internship after my undergraduate degree that I began to develop my interest in artificial intelligence and data analytics.
I believe a good university like Unisa (with an engaged workforce, world-class labs, a wide range of course offerings, research opportunities and funding for all departments and faculties and excellent support services and staff) will continue to help me understand the field better, map out my career plans while accomplishing Unisa's mission and vision at the same time.
What do you do? What are the duties/functions/responsibilities of your job?
I direct all aspects of the School of Engineering activities and projects within the institution. The job entails providing strong academic leadership; demonstrate vision, and empower others in order to deliver the agreed school strategy within CSET. I am responsible and accountable for:
Setting and advancing the academic strategy of the school in line with CSET and Unisa's strategic plans and direction (leadership and management)
Ensuring the best possible student experience through the fulfilment of Unisa's responsibilities concerning students in respect of their admission, instruction, progress and examination (teaching and student responsibility)
Ensuring the highest levels of quality, integrity and ethics in all research undertaken (research responsibility) ; creating and exploiting new opportunities for knowledge transfer activity in order to secure additional income stream and new areas of teaching and/or research (knowledge transfer)
Ensuring that Unisa's HR policies are implemented (people management)
Taking responsibility for devolved budgets and comply with Unisa financial regulations (financial management)
Ensuring all activities are carried out to the highest possible standards
Putting in place the necessary evaluation and monitoring procedures to ensure both compliance and improvement (quality assurance).
What strategic direction are you bringing to CSET, particularly the SoE
Engineers create jobs that drive the economy and are vital to solving society's largest problems. Unisa should be an economic powerhouse in the region, directly and indirectly affecting every resident of Africa. The mission of CSET is to develop highly competent professionals, preparing them for entry-level positions in engineering or teaching, or for further study in graduate or professional school. We have graduated creative engineers and developed innovative solutions through our research.
Going forward, we expect even more of ourselves as we redesign engineering education and tightly focus our research on solving tomorrow's challenges. We are called to rethink the way we educate students—focused on fundamentals while incorporating technological advances. We have hard work ahead of us and we ask for everyone's commitment to support all of our students, college, and staff as they pursue their dreams and goals—for themselves and the world at large.
What exactly does the word 'success' mean to you?
Success means I am at liberty to help others reach THEIR success (especially my students), instead of worrying about my own.
*By Thembeka Ntuli-Mpapama