College of Science, Engineering & Technology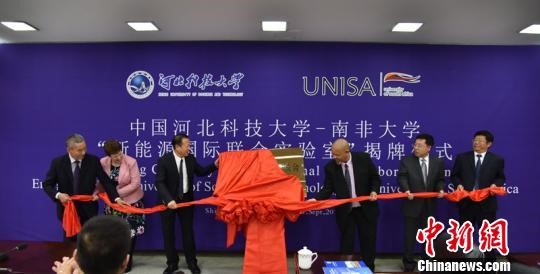 On Sep 25, the opening ceremony of the "International Joint Laboratory for new energy" together established by Hebei University of Science and Technology (HEBUST) and University of South Africa (Unisa) was held in Shijiazhuang.
It is reported that the opening of the lab has set up an international academic platform for the researchers in both universities in the research fields of green energy development, environmental governance and sustainable development.
Yuding Wang, the chairman of the Party Committee of HEBUST, said that the HEBUST is insisting on developing internationalisation of education; taking the "regionalisation, application and internationalisation" as the goal of the 13th Five-Year Plan of HEBUST; we will comprehensively push the HEBUST on a progress in the aspects of teaching, academic research, management et al and promote the performance level according to international standards to achieving a sustainable, healthy and rapid development.
In 2016, Prof Diane Hildebrand, a member of the Royal Society of South Africa, the South African Academy of Sciences and the South African Academy of Engineering, was introduced by HEBUST invited to build a jointly academic team. The team is going to tackle certain major scientific projects which is demanded by the 2022 Winter Olympic and the economic development of Hebei province, for example the utilization of biomass, environmental protection, energy saving and emission reduction et al.
According to Prof Mandla Makhanya, Vice-Chancellor of the University of South Africa, the UNISA is one of the most influential universities in the field of distance education in the world. Unisa is one of the important components of the higher education in SA. It has made a significant contribution of education and talents cultivation for SA some other countries in Africa continent.