The epidemiology of childhood injury in low-income settings in South Africa.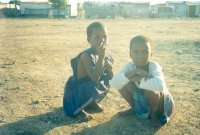 Children in Nomzamo
Introduction
Despite the reported pervasiveness of injury risks in South Africa, the injury morbidity data for children is meagre. A lack of comprehensive baseline data, against which changes in health status and the efficacy of interventions can be measured, is reported to be of particular concern at this time of rapid social transition in South Africa. This project examined the available injury morbidity data, from which a number of initial trends and recommendations for injury prevention are being developed.
Study findings
This study examined the injury trends amongst children located in ten low-income settings in the Strand in the Western Cape and in the South-west municipality of Johannesburg. The injury data for these areas were secured between 1996 and 1998, via three household-based surveys. There was considerable variation of injury incidence across the neighbourhoods, ranging from 0% to 9.4% of children aged 14 years and younger. Injury incidence was most pronounced in two of the Johannesburg informal settlements. Generally, children were most likely to be injured because of falls and traffic collisions, and to a lesser extent violent assault and burns. Male children sustained most injuries, with high-risk locations in and around homes in the neighbourhoods themselves. Most injuries occurred in the afternoons and evenings.
Prevention implications
The findings of the study complement those of the National Injury Mortality Surveillance System (NMSS) and other South African studies. The project calls for the prioritisation of a number of interventions.
Firstly, despite the recent implementation of the NMSS and a number of household and hospital based studies, extensive, reliable national level data on the extent and patterns of childhood injury mortality, but especially morbidity, remains scant. As a consequence it remains difficult to define the risks, determinants, costs, and the best prevention interventions for childhood injuries. The available epidemiological studies have tended to focus on the clinical profile of injuries, initial descriptions of the epidemiology of injuries, and preliminary discussions around injury prevention. This paucity of research into the risks for these injuries is a critical obstacle impeding the development of appropriate interventions.
Secondly, the study especially supports the development of preventative safety promotion interventions that target fall and traffic injury hazards. In specific settlements, burn and violent injuries also require specific attention. The particular vulnerability of children to these injuries reflects on the hazardous environments peculiar to many low-income settlements. Particular sites for injury control and prevention interventions include the home, schools, and community organisations.
Thirdly, an initial perusal of the childhood injury prevention literature suggests a relative emphasis on epidemiological, education and environmental strategies. The sector appears underdeveloped in terms of advocacy and evaluation interventions. However, in South Africa, there has been a considerable amount of activity in the Children's Rights movement. It is very much in the interests of safety promotion that sector stakeholders consider developing linkages between the human rights and injury prevention movement as asserted in the Delhi Declaration.
Related publications
"Investing in the young for a better future: A programme of intervention" Duncan, N and Van Niekerk, A. (2001). In M. Seedat, N. Duncan & S Lasarus (Eds.), Theory, Method and practice in Community Psychology: South African and other Perspectives. Oxford University Press: Johannesburg.
"Childhood injury in selected low-income South African neighbourhoods". Van Niekerk, A., Seedat, M. Bulbulia, S. & Kruger, J.D. (2001). UNISA ISHS Monograph Series, 2(3). UNISA ISHS: Johannesburg.
"South African children and mental health: A history of adversity, violence and trauma". Lockhat, R & Van Niekerk, A. (2000). Ethnicity and Health, 5 (3/4), 291-302.