Since 1990, the Institute has maintained its Centre for Peace Action in Johannesburg's south west suburbs of Eldorado Park, Ennerdale, Lenasia and Chiawelo as a test-bed for the development and evaluation of community-based violence and injury prevention programmes. In 1997, the Institute and its Centre for Peace Action began safety promotion programmes in several Helderberg communities of the Strand in the Western Cape.
The Centre operates as a university-affiliated non-governmental organisation and focuses on the prevention of injuries due to violence and accidents, and the psychosocial care of survivors. Following the principles of best practice, its interventions include youth and women's services, mental health promotion facilities, home and community safety programmes and traffic safety initiatives.

Since 1997, with the Johannesburg South-West Metropolitan Council, the Centre has been a member of WHO's Global Network of Safe Community Demonstration Programmes.
On 4 April 2001 at the closing session of the Second African Regional Safe Communities Conference, the Centre for Peace Action was designated as an Affiliate Support Centre - the first to be designated on the African continent.

"Consolidating communities for best practices in safety promotion"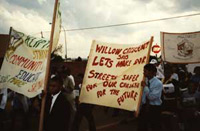 Aims of the Centre
Rooted in a community that was historically marginalised and disenfranchised by the apartheid state, the CPA epitomises a programme that works with a high-risk community and aims to enhance safety-related equity and justice. Within this broad framework, attention is particularly focused upon the sub-groups most vulnerable to injury: residents of informal settlements, young mothers and youth, the unemployed, victims of violence and child labourers.
At a national and continental level, the Centre:
Assists communities in the preparation and submission of their applications for Safe Community Status Provides ongoing technical and training assistance to Safe Communities operating in the sector Assists Safe Community Programmes to develop their research and injury prevention capacities Confers Safe Community Status to worthy communities operating on the African continent. Helps designated communities maintain and develop their status by way of regular and supportive reviews and quality assurance inputs.
At an international level, the Centre:
Stimulates interest in issues affecting injury prevention in low to middle-income contexts.
Facilitates relevant exchanges in the form of research collaborations, capacity building and exchange programmes
Encourages mutually beneficial research involving people in low to middle-income and high-income contexts
Disseminates information on best practices for injury prevention and safety promotion.
Strategic national, regional and international location
As a WHO Collaborating Centre for Injury and Violence Prevention Research and Training, the Centre is:
A former NRF research unit and ongoing grant-holder
Co-director of the national Crime, Violence and Injury Lead Programme
Collaborating with government at multiple levels
Partnering with national and international NGOs and donor/funding agencies
Global WHO Safe Communities Network of Demonstration Programmes (CPA) since 1997
WHO Affiliate Safe Communities Support Network (CPA) since 2001
Associated with IPIFA, WHO AFRO and WHO VIP.
As a research institute focusing on inequality, difference and knowledge production, the Centre is:
An ongoing NRF research grant-holder
An international collaborator with faculty in the USA, France and Australia on issues of race and racism
A test-bed for critical theorising about inequality, difference and knowledge production, especially within the discipline of psychology and social sciences generally
An ongoing contributor to the generation of publications related to these social phenomena in different forms.
Organisational and programme milestones
Established Health Psychology Unit 1986
Formalised Soweto Primary Health Care Psychological Distress Clinic in 1987
Formed Eldorado Park Violence Prevention Programme (EVPP) in 1988/9
Re-named EVPP Centre for Peace Action in 1992
Established Eldorado Park Youth Centre in 1992
HSRC/NRF Research Unit from 1992 to 2000
WHO Collaborating Centre Designation since 1996 to the present. CPA /JHB South-west Metropolitan Council.
Establishment of Institute for Social and Health Sciences in 1997
WHO Safe Communities Demonstration Programme from 1997
Hosted International Safe Communities Conference in 1997
Formal external programme evaluations – 1998, 1999, 2000 (national resource, renowned for excellence)
Co-hosted African Regional/Indian Ocean Safecom Conferences in 998, 2001, 2003
CPA: WHO Safecom. Affiliate Support Centre Designation in 2001
Appointed ISHS Co-Director of Crime, Violence and Injury Lead Programme from 2001-2004, renewable
Successful bid to host 2006 World Injury Conference made in 2003.