Women are closing gender gaps in areas such as health and education but significant inequality persists in many other areas, said Dr Anna Mokgokong, businessperson and philanthropist, delivering the annual Makgomo Charlotte Mannya-Maxeke Memorial Lecture at Unisa on 7 April 2019.
The event was organised by Unisa's College of Graduate Studies and the Institute for African Renaissance Studies (IARS) in partnership with the Charlotte Mannya-Maxeke Institute (CMMI) to reflect on Mannya-Maxeke's contribution to Pan-Africanism and the African Renaissance, and was themed No-one must be left behind.
If a century ago, a black woman like Mannya-Maxeke was able to attain a Bachelor of Science degree, participating and contributing meaningfully to the social environment and political spheres, then we should be seeing far more change than we are seeing right now, given the gender policies and financial means the country has today. Where are we getting it wrong?

Inequality in all its many forms
In her address, Mokgokong said this country would remain poor if the unity of women was weak. She reiterated that women should not be left behind on the crucial path to equality, as their role was pivotal in this inclusive economy. For Mokgokong, women must unite against exploitation in political, social, economic and spiritual facets.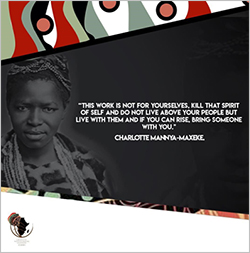 "The most toxic situation today in South Africa is to appoint women as tokens and not based on their potential expertise, where they are more than likely to fail," said Mokgokong, referring to cronyism and nepotism as catalysts of this failure. "We must grow beyond the point where men - usually those with fragile egos - feel the need to lure someone they view as weaker to feel good about themselves. The power we have in positions should be used to effect changes and not to oppress others and glorify ourselves," she added.
"Let's dismantle the oppressive shuttles of patriarchy which blinds our vision and deters the progress of the emancipation of women, and blinds leaders from seeing their immense value and the impactful contribution that women like Dr Mannya-Maxeke and many others of our leaders have made in the betterment of people's lives," she concluded.
Violence against women and children an epidemic
The Minister of Defence and Military Veterans, Nosiviwe Mapisa-Nqakula, suggested that Unisa should at an appropriate time consider naming one of its buildings, institutes or programmes after Mannya-Maxeke. She also agreed that the fight for gender equality was still one with which the country was grappling. The minister said 148 years after the birth of Mannya-Maxeke and 80 years since her passing, even in developed countries women continue to be discriminated against in all spheres of life. In South Africa violence against women and children had reached epidemic proportions and it was a fight that must be led by strong and tenacious women like Mannya-Maxeke.


Pioneer of higher learning
In his welcome address, Prof Mandla Makhanya, Unisa Principal and Vice-Chancellor, stated that Mannya-Maxeke expressly defied normative responses and relations that black women were forced into at the time. Her defiance was against a macro-political and economic system that was framed against
black people in general and the black working class as well as a feudal traditional system that worked against black women. However, she defied the odds and obtained a Bachelor of Science degree in 1901, at a time when even black men were not allowed to study for the sciences.
Mannya-Maxeke's contribution is inadequately memorised within the intellectual realm, said Makhanya. He emphasised that it is not the memorisation we should be interested in, but her intellectual contributions and how she wove that within practical interventions. He further described Mannya-Maxeke as one of the pioneers of higher learning in South Africa across all races.
In his capacity as a respondent, Advocate Sonwabile Mancotywa, the CEO of the National Heritage Council (NHC), said that heritage was a strategic resource for humankind. He encouraged the audience to pay attention to language and invest in heritage.
The lecture was an exclusive one graced by positive vibrations with dancers entertaining the audience and bringing together politicians, scholars of diverse academic pursuits, and people from different walks of life, all enthralled by Charlotte Mannya-Maxeke's positive impact on South Africa and around the world.
You can watch the lecture https://www.youtube.com/watch?v=ZRQiB3FTZbE.
* By Lesego Ravhudzulo, Journalist, Department of Institutional Advancement