6th Annual Ethics Conference 2021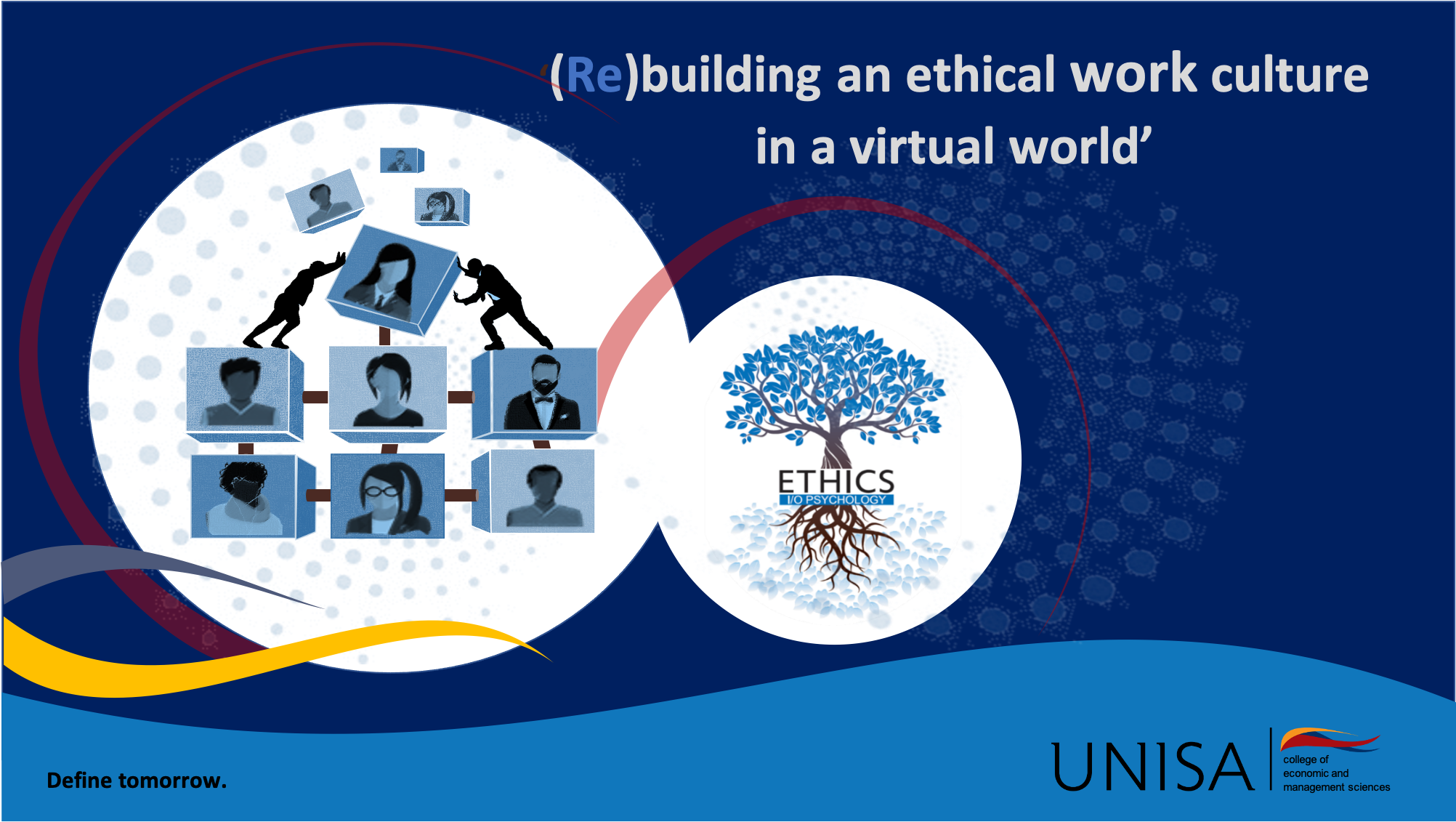 UNISA's Department of
Industrial and Organisational Psychology
invites you to attend the
6th Annual Ethics Conference 2021
The Research Ethics Committee of the Department of Industrial and Organisational Psychology
is pleased to present our annual Ethics Conference.
This year's theme is:

Organisations are confronted daily with the reality of high levels of corruption and unethical behaviour and therefore we need to deliberate how these challenges can be met head on.
The conference will aim at gaining insight into the views of subject matter experts on this topic and consider the findings numerous research projects conducted over the last year or so. The impact of having an outward mindset, coaching and the role of women leaders in rebuilding ethical organisational cultures will be explored and we will discover how corruption and unethical behaviour can be prevented in our organisations. We plan on concluding the day with look at the role of whistle-blowers and how they are seen. Through this virtual conference, attendees will be inspired and equipped to actively play a part in ensuring a workplace in which employees feel secure and can thrive to the benefit of our organisations and South Africa at large.
Within this context and given the excellent feedback received from students, academic personnel, psychologists and other practitioners on the ethics conferences held since 2015, the Department of Industrial and Organisational Psychology at UNISA are compelled to again host a one-day conference, yet this time online, on the crucial matters of ethics in society and business.
The Conference deliberations will focus on, amongst others:
Deeper matters: (Re)building an ethical work culture in the virtual world by adopting an outward mindset
Managing ethically and humanely in times of crisis
My journey as a female leader in higher education
Preventing workplace deviance in a virtual working environment
Ethics and the whistle-blower: Victim, villain or hero?
We are pleased to introduce our esteemed keynotes, Dr Cobus Pienaar from the Arbinger Institute and Prof Rodney Lowman of Lowman & Richardson Consulting Psychologists, San Diego, USA. Subject matter expert presenters include Dr Fortunate Silinda, Dr Renate Scherrer, Mrs Liezl Groenewald and Prof Magda Swanepoel.
Ethics CPD points
Disclaimer
Presenters and attendees of any CPD activities must please note that the attainment of continuing education units (CEUs) does not license professionals to practise outside their official scope of practice. CEUs broaden the knowledge of professionals but do not constitute professional training.
Date: 6 May 2021
Time: 08:30
Venue: Online MS Teams
Last modified: 2021/04/15