Unisa's Science Campus has one of the most impressive collections of high-end lab equipment in Africa, says Dr Stephen Meddows-Taylor, Head of the College of Agriculture and Environmental Sciences (CAES) laboratories.
Meddows-Taylor knows the value of good equipment when he sees it, having worked for more than 15 years at the National Institute for Communicable Diseases on projects studying immune responses in HIV and TB co-infection and immune factors preventing mother-to-child HIV transmission; and as a laboratory manager at Netcells Biosciences, a company involved in the storage of umbilical cord blood and tissue.
"Unisa staff and students are very privileged to have these facilities. I have worked at and travelled to laboratories throughout the world and I can honestly say these labs, together with the tremendous array of equipment available in the College of Science, Engineering and TEchnology (CSET) laboratories, are the best I have ever seen with respect to both the infrastructure and the variety of high end equipment we have available—some of the best on our continent."
"In addition", he continued, "the large variety of scientific disciplines within the college has resulted in a remarkable range of laboratory equipment to serve all the different requirements, which very few other universities or research institutes can match."
He said even though Unisa has been offering distance learning science qualifications for many years now, previously students had to use other universities' facilities to complete their practical sessions. "However, with the building and commissioning of the laboratories at the Science Campus, both undergraduate and postgraduate students in the sciences now have access to Unisa's own laboratories, housing some of the most state-of-the-art infrastructure and laboratory equipment available. In conjunction with the Horticulture Centre, these labs will significantly advance science education and research in South Africa."
As head of the CAES laboratories, his responsibilities include overseeing the operationalisation of the laboratories to prepare them for both undergraduate practicals and postgraduate research studies. Together with the other CAES laboratory staff, he is responsible for the installation and commissioning of all laboratory equipment, setting up quality assurance and safety procedures in all the laboratories, and writing standard operating procedures for all equipment and procedures.
"We have more than 25 individual laboratories, which include undergraduate practical labs and postgraduate research labs from very diverse disciplines, including botany and plant sciences, animal sciences, microbiology, molecular biology, environmental sciences, biotechnology, geology, cell culture and food sciences. Each of the labs have different functions and requirements, which makes general day-to-day running of all the laboratories an interesting and stimulating task."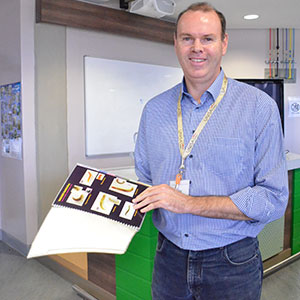 Up close and personal: Dr Stephen Meddows-Taylor

Upon finishing high school in Johannesburg, Dr Stephen Meddows-Taylor completed a BSc in Microbiology and Biochemistry, and BSc Honours at the then University of Natal (now University of KwaZulu-Natal) in Pietermaritzburg. "I have always had a keen interest in biology and science growing up. I then took a year off from studying and travelled to Israel, Egypt and the UK. Upon returning I started my first job as a research assistant at the AIDS Virus Research Unit at the National Institute for Communicable Diseases (NICD)."

He continued working at the NICD for a further 15 years on projects studying immune responses in HIV and TB co-infection and immune factors preventing mother-to-child HIV transmission. "During this period I completed my MSc and PhD degrees at the University of Witwatersrand and was involved in over 30 research publications in international scientific journals. I left the NICD to become the Laboratory Manager at Netcells Biosciences, a company involved in the storage of umbilical cord blood and tissue, a position which I held for four years."

In a bid to return to a university and research environment, he moved to Unisa in March 2014 as Head of the College of Agriculture and Environmental Sciences (CAES) laboratories. "I am passionate about scientific research and new discoveries, and the CAES laboratories are offering me the opportunity to interact with researchers and students from a wide background of disciplines and research interest which is proving to be very stimulating."
Save
Save